Welcome to the blog tour for Siren's Song by Heather McCollum! I have an interview with the author to share with you today, and I hope you like it.
Before reading the interview, here's some information about the book:
Genre: YA paranormal
Publication date:
March 25th, 2014
Publisher: Spencer Hill Press
Goodreads Description:



Jule Welsh can sing. She enthralls people with her bel canto voice. But it takes more than practice to reach her level of exquisite song; it takes siren's blood running through her veins. Jule is starting her senior year at Cougar Creek High when her relatively normal world begins to resemble a roller coaster flying through a carnival scare house. Her mother is diagnosed as insane and committed, a psycho-stalker is snapping pictures of her to put into his homemade Jule-shrine, her voice is suddenly putting people into comatose trances, oh and the gorgeous new guy in town, Luke Whitmore, is interested in her . . . but also wants to kill her.

Thanks so much for having me here today! I'm thrilled to talk about Siren's Song, my first Young Adult paranormal romance.

Hi Heather! First of all, can you please describe Siren's Song using only one sentence for me?

One sentence is tough for me. I'm not great at "elevator pitches" but here goes:

Jule's magical siren's voice enthralls all who hear it but also compels her true love, Luke, to want to kill her.

Is there a significance behind the dragonfly on the cover of Siren's Song?
I love dragonflies. My books have at least one somewhere in each. Dragonflies have existed on Earth since the days of the dinosaurs, and yet they continue to be beautifully fragile. I feel they represent women, fragile in form but extremely resilient in spirit.

Jule has a dragonfly-shaped birthmark over her heart which figures into the book's mythology. No more on that subject or I might slip and give something away : )

Which character in Siren's Song was the toughest for you to write and why?

Luke, the hero, was fairly tricky to write. As he falls more in love with Jule, he's pushed by dark magic to kill her. The change in his behavior, expressions and attitude must happen gradually throughout the story, to parallel his growing love for Jule.

What pushed you to write a Young Adult book?

My teenage daughter wanted to read my books, but they are all adult and thus "rated R." I had also started reading a lot of YA myself and loving the genre with its fresh, often snarky attitude and unique views on the world.

When the idea of a love/hate relationship and a gift turned into a curse sparked in my mind, I knew I had a story that could break into YA. Plus my daughter could read it. She is now my beta-reader (first reviewer of the rough draft) for all my YA books (I just finished writing the sequel).

What has been the hardest step in publishing your books?
Wow – hardest step? There are so many tough steps to getting published: finishing a book, finding someone to read it, fixing it, getting someone in the industry to notice it, sending it out to agents and editors, fighting the urge to eat mounds of chocolate when the rejections roll in, fixing the plot, character arcs, conflict, etc. Wash. Rinse. Repeat.

Christina Dodd, a fabulous romance writer, once said that submitting your manuscript is like getting up on stage before an audience, stripping off all your clothes and asking for comments. Now that's tough.

Your book, especially your first, is your baby. You've poured all your creativity, skill and love into it, and now you must send it out into the world. And the world will most likely bitch-slap it with criticism. Ugh!

What I've learned through the years of stripping, I mean submitting, is that there are nuggets of pure gold in some of those comments and rejections. Often we are hurt and thus miss the bits of wisdom and instead go drown our sorrows in chocolate fondue (or is that just me?). But if you go back to the criticism and consider the advice, maybe even implement the parts that ring true, you can possibly make your baby shine enough to get noticed the next time you send it out. And send it out again, you must (thank you, Master Yoda). A published writer is a writer who didn't give up.

What is one of the most fun parts of writing?

Again – there are so many. But nothing thrills me more than when I'm writing a scene and the characters take over and I just record what happens. There's a shift when I get to know them so well that they begin to write themselves in truly authentic ways. Then all I have to do is keep throwing disasters at them. I get a front seat view to watch how they figure things out and somehow find their happy ending. When this all comes together, I literally cry with joy. And that's why I'm a writer.

Thank you for answering my questions!

Thanks for having me here today! I've had lots of fun answering your questions. For more information on me and my books, please stop by my web site at www.HeatherMcCollum.com. I can also be found here:

Twitter https://twitter.com/HMcCollumAuthor
FB https://www.facebook.com/HeatherMcCollumAuthor
Pinterest http://www.pinterest.com/hmccollumauthor/
Siren's Song book trailer on YouTube: Siren's Song Book Trailer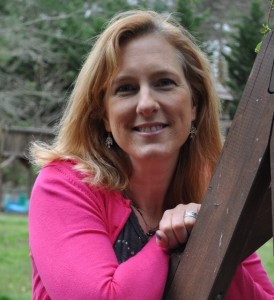 Heather McCollum is an award winning, historical paranormal romance writer. She earned her B.A. in Biology from the University of Maine, much to her English professor's dismay. She is a member of Romance Writers of America, Heart of Carolina Romance Writers and the Ruby Slipper Sisterhood of 2009 Golden Heart Finalists.

The ancient magic and lush beauty of Great Britain entranced Ms. McCollum's heart and imagination when she visited there years ago. The country's history and landscape have been a backdrop for her writing ever since. She currently resides with her very own Highland hero and three spirited children in the wilds of suburbia on the mid-Atlantic coast.