Today, I'm featuring an interview with YA writer Belinda Jolley! She isn't published (yet), but that's her dream. I know her through Twitter as @olivebelinda, and I'm glad I got to ask her questions about writing and reading.
If you want to get to know Belinda more, you can visit her blog, The Jolley Life!
(I added a few responses to her answers in
purple
.)

Hi Belinda!
First of all, how are you?

I'm great! Been staying busy with CPing, writing, and reading. It's the good kind of busy, so I'm not complaining. :)

What kind of books do you write?

I write YA, although I have been thinking about branching out to NA. Right now I am working on a paranormal romance YA, but usually I write contemporary.
Ah, you usually write my favorite genre then. ☺

What advice do you have for aspiring authors?

Get some writing friends. Let them support you, cheer for you, and give you advice. Do the same for them. You might think writing is a solo job, but it takes a village to get a book from your mind to the bookstore's shelf. Get you some hands to help lift you up when you are feeling low. (Everyone gets those low points. You are not alone.) Friends and family might support you, but only writers understand you.

What is the toughest part of writing for you?

DRAFTING. Omg, the drafting struggles I go through are serious. I'm such a slow drafter. I blame that mostly on the fact that I am a pantser. It's also my favorite part of writing, which is funny to me. I love creating a story, but boy, it's difficult!
I bet! Creating a story definitely seems like it would be tough.

Who are some authors that you admire?

I admire Carrie Ryan and Mindy McGinnis. I love how their books hit you in the gut with feelings. I want to portray such feelings even though my writing is lighter. Everyone might not like a story, but everyone will remember the emotions it gives them.

I absolutely love Judy Blume. I admire the way her characters are so raw and relatable. They feel so real and honest that I can't help but feel like I have known them forever. I reread Summer Sisters almost every year. It's like going down memory lane with old friends. I want my characters to make such an impact on others that they reread my books to relive their story over and over.
I haven't read anything by Mindy McGinnis and I haven't read anything by Judy Blume in years, but I have to agree about Carrie Ryan's books. I'll never forget the emotions I felt while reading The Forest of Hands and Teeth.

What would you like to see more of in YA and what would you like to see less of?

I would like to see more YA with issues. Let me read about a girl with personality disorders. Real problems, not the cute, "I have to clean my room", but the "I wash my hands until they are raw and bleeding". Tell the YA world about eating disorders, not the girl that loses five pounds to fit into her prom dress, but the girl that starts to lose her teeth because of the stomach acid from throwing up. Let's see less of the amazingly beautiful girl that gets exactly what she wants, and more of the normal looking girl that's getting bullied in school. I don't care if it's dystopian, paranormal, or scifi, I love it all, but lets write something teens can relate to, not escape to.
Those are my favorite types of story, so that's what I want to see more of too!

If you could convince me to buy any book and read it right now, which book would that be and why?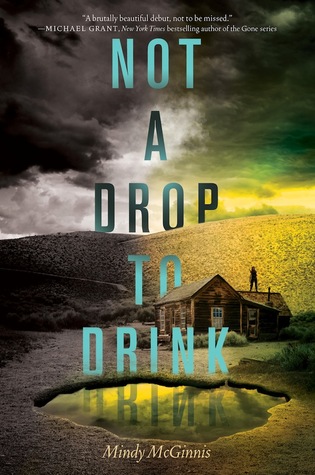 Not a Drop to Drink by Mindy McGinnis.

I always recommend the last book I read that gave me a hangover. It has so many feels I'm still recovering. I'm so excited that it has been optioned for a movie! Everyone needs to read it before the movie comes out!
I have that one! I definitely have to read it soon.

What is a 2014 debut that you can't wait to read?

I have read many of the debuts for this year, but I haven't read Love Letters to the Dead by Ava Dellaira yet. I'm looking forward to it. Everyone is comparing it to Perks of Being a Wallflower, which I read in high school and reread again before the movie. I loved it both times, so should it give me the same feelings that book did, I am sure to love it too.
That one looks like such a good book.
Thank you for answering my questions!