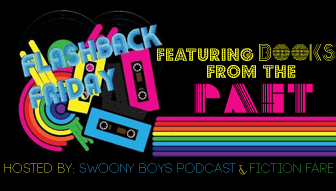 This is a new meme hosted by Swoony Boys Podcast and Fiction Fare! It is a way to highlight older books (published at least two years ago) that we've read and loved or have been sitting on our TBR for a long time.
I realized this idea would work perfectly with a feature idea of mine where I write letters to books that I've been meaning to read or characters that I've yet to meet. I'm calling them my Guilt Letters to the TBR (title inspired by Love Letters to the Dead). I chose Anna from Anna and the French Kiss to write my first letter to.
(Click on the picture to go to Goodreads.)
Anna has everything figured out - she was about to start senior year with her best friend, she had a great weekend job, and her huge work crush looked as if it might finally be going somewhere... Until her dad decides to send her 4383 miles away to Paris. On her own.




But despite not speaking a word of French, Anna finds herself making new friends, including Etienne, the smart, beautiful boy from the floor above. But he's taken – and Anna might be too. Will a year of romantic near-missed end with the French kiss she's been waiting for?




Magical…really captures the feeling of being in love." – CASSANDRA CLARE




"Very sly. Very funny. Very romantic. You should date this book." - MAUREEN JOHNSON
~~~~~~~~~~~~~~~~~~~~~~~~~~~~~~~~~~~~~~~~~~~~~~~~~~~~~~~~~
Dear Anna,

I must apologize. Your story was published all the way back in 2010 and it has been on my bookshelf for almost a year now, and I still (for reasons unknown to even me) have yet to actually read it.

Anna and the French Kiss looks like such a sweet, romantic read that I would just adore. It seems like the type of contemporary that I would read from cover-to-cover in one sitting because it's just so darn addictive. I love those books! I just get so sucked in by the story and the romance and the sweetness (or sometimes bitterness) of it all.

I've heard so many amazing things about your story. I lot of people have said its an amazing contemporary and many people have mentioned how its set in Paris. The most I hear is about the romance, though. A lot of my fellow booklovers call Etienne St. Clair their book boyfriend (does that bother you at all--the fact that so many women love him?) and I'm feeling a little left out. I can only imagine that he is a great guy. Why else would the story about you two be written? Apparently he's very swoon-worthy . . . and I have to admit that I'm very curious about that.
Writing this letter makes me wonder why on earth I haven't read your story yet. I guess I tend to push off reading amazing sounding books. (I know--that's a stupid thing to do.) It's only a matter of time until I finally read it. I've even ordered Lola's story and downloaded a sampler of Isla's because I'm sure that I'll love reading yours.

I'm looking forward to reading about your romantic story. :)

Sincerely,



P.S. Here are some things other people are saying about your story on Twitter:
@KaitlinS16 AD;LSKFJ;ASDJLFCLDKJS SO MUCH CUTENESS LIKE I HESITATED FOR TWO YEARS TO READ THIS AND THEN I DID AND I DIED INSIDE
— Nikki Wang (@Nikki_Wang) June 26, 2014
@KaitlinS16 ETIENNE ST. CLAIR. PARIS. SWOONS. FRIENDSHIPS. FLAILS. AND DID I MENTION ETIENNE ST. CLAIR? ;DD
— Kelly (@whatisakelly) June 26, 2014
@KaitlinS16 it is adorable! So swoon-worthy! And also... it's set in France! Need I say more? :)
— Emily (@Emilydances5678) June 26, 2014
@KaitlinS16 He's so amazing because of his accent and hair!
— abigael (@booknerdbtw) June 26, 2014
@KaitlinS16 It is an amazing contemporary with real depth and heart
— Katie Mazur (@katskywriter24) June 26, 2014
~~~~~~~~~~~~~~~~~~~~~~~~~~~~~~~~~~~~~~~~~~~~~~~~~~~~~~~~~
Please let me know if you liked the letter format! It's something fun that I want to keep doing for various books. (They won't always be posted with this meme. Many may be posted apart from Flashback Friday and they may either be posted alone or with other letters. It depends on whether you like them or not.)