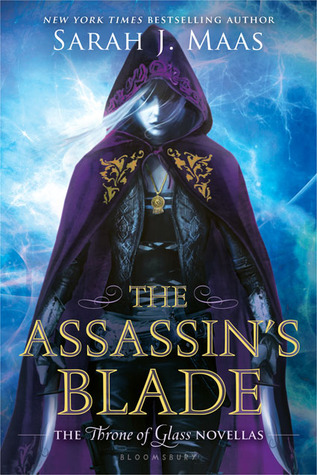 Series: Throne of Glass #0.1-0.5
Genre: YA fantasy
Pages: 448
Publication date: March 4th, 2014
Publisher: Bloomsbury Childrens
Contains all five novellas.





Celaena Sardothien is Adarlan's most feared assassin. As part of the Assassin's Guild, her allegiance is to her master, Arobynn Hamel, yet Celaena listens to no one and trusts only her fellow killer-for-hire, Sam. In these action-packed novellas - together in one edition for the first time - Celaena embarks on five daring missions. They take her from remote islands to hostile deserts, where she fights to liberate slaves and seeks to avenge the tyrannous. But she is acting against Arobynn's orders and could suffer an unimaginable punishment for such treachery. Will Celaena ever be truly free? Explore the dark underworld of this kick-ass heroine to find out.
Source: purchased
The Assassin's Blade
These are the best novellas to go with a series that I've read so far, and for that, this book deserves full five stars. (Of course, it deserves the rating in many other ways as well.) I don't read many novellas because I prefer full length novels, but in
The Assassin's Blade
, the length of each story didn't bother me at all because they all fit together to form a much longer one.
I loved learning more about Celaena's past and the people that were in her life (namely Sam, Arobynn, and Ansel) before the star of
Throne of Glass
. They were both fun and . . . not-so-fun (I'm referring to the painful parts) to read, but I enjoyed reading each novella!
The Assassin and The Pirate Lord
This one was the most fun. Sam was introduced--and I started getting a little attached to him. I loved seeing he and Celaena work together against the pirates. There was a lot of cool action and the assassin's sure showed their skills (which are pretty darn good).
The Assassin and The Healer
This one was very short, but it was a nice read! I loved Yrene's step from a weak, defenseless-seeming girl to one that was capable of protecting herself and choosing her own destiny. I also loved Celaena's role--despite being Adarlin's Assassin, she does have a heart.
The Assassin and The Desert
This novella . . . well, let's just say it explains Celaena's distrust of certain people in
Throne of Glass
.
The Assassin and The Underworld
My emotions were all over the place during this one. There were happy moments and victorious ones. There were also very tense ones. A couple parts (mainly the ones with Lysandra), I felt as irritated as Celaena. This novella made me a little sad because I was dreading how much closer I was to what happens in the last one.
The Assassin and The Empire
Wow. So many feels. This on
broke my heart
.
On the happier side . . . I LOVED the note on which it ended. It was perfect!
I was still left feeling like this after finishing it, though:
Do you like to read novellas?