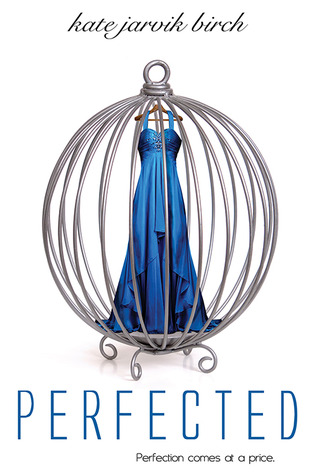 Series: Perfected (?) #1
Genre: YA dystopia
Pages: 304
Publication date: July 1st, 2014
Publisher: Entangled Teen
Perfection comes at a price.





As soon as the government passed legislation allowing humans to be genetically engineered and sold as pets, the rich and powerful rushed to own beautiful girls like Ella. Trained from birth to be graceful, demure, and above all, perfect, these "family companions" enter their masters' homes prepared to live a life of idle luxury.





Ella is happy with her new role as playmate for a congressman's bubbly young daughter, but she doesn't expect Penn, the congressman's handsome and rebellious son. He's the only person who sees beyond the perfect exterior to the girl within. Falling for him goes against every rule she knows…and the freedom she finds with him is intoxicating.





But when Ella is kidnapped and thrust into the dark underworld lurking beneath her pampered life, she's faced with an unthinkable choice. Because the only thing more dangerous than staying with Penn's family is leaving…and if she's unsuccessful, she'll face a fate far worse than death.





For fans of Keira Cass's Selection series and Lauren DeStefano's Chemical Garden series, Perfected is a chilling look at what it means to be human, and a stunning celebration of the power of love to set us free, wrapped in a glamorous—and dangerous—bow.



Source:
I received an e-arc of this bo
ok from the publisher in exchange for an honest review.
I was so excited to read this one . . . and I'm glad to say that I enjoyed it. It just worked for me.
The romance was one of my favorite parts (if you've read a lot of my reviews, you may know that I pay a lot of attention to romance in a book). I liked the idea of Ella and Penn as a couple even before they spoke to each other for the first time. I just knew I would love them together. Their relationship was a large focus of the story, which I didn't mind!
I loved Ella's character. She was bred to be a perfect "pet"--a status symbol for a rich family in the dystopia world she lived in. Though she was quite naive, I found that it important to the story for her to have been so. It left a
lot
of room for her to grow. In this book, she started seeing herself as human. Not a pet, not property, but instead someone who should have freedom. She didn't go through
huge
changes, but I expect those to take place more in the sequel considering where the book left off (which was why I liked the ending).
I really liked Ella's fascination with her new surroundings as she adjusted to the house she was in. It made the descriptions nice to read. I also liked how so many ugly things were wrapped in an illusion of perfection and status.
The concept of the story was an interesting one, but I wished there was more background. There were politics involved with the pets and I would've liked to find out more about why the pets were part of society and how they came to be. However, since the book was told in Ella's POV and she didn't much about politics at all (I doubt that was something someone like her was supposed to know seeing as how she wasn't even supposed to know how to
read
), I could understand why there wasn't as much background as I would've liked. Also, I have a feeling that many things will be explained in the sequel (again, I expect this because of where this book left off at).
Overall, I really enjoyed
Perfected
. It was a very good book for me, as I had hoped it would be.
One more thing: that cover represents the inside of the book really well.