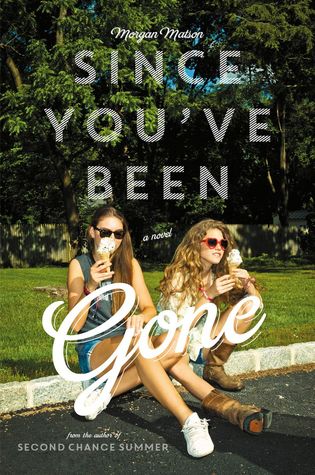 Series: standalone
Genre: YA contemporary
Pages: 449
Publication date: May 6th, 2014
Publisher: Simon & Schuster
Goodreads description:



The Pre-Sloane Emily didn't go to parties, she barely talked to guys, she didn't do anything crazy. Enter Sloane, social tornado and the best kind of best friend—the one who yanks you out of your shell.But right before what should have been an epic summer, Sloane just... disappears. No note. No calls. No texts. No Sloane. There's just a random to-do list. On it, thirteen Sloane-selected-definitely-bizarre-tasks that Emily would never try... unless they could lead back to her best friend. Apple Picking at Night? Ok, easy enough.Dance until Dawn? Sure. Why not? Kiss a Stranger? Wait... what?





Getting through Sloane's list would mean a lot of firsts. But Emily has this whole unexpected summer ahead of her, and the help of Frank Porter (totally unexpected) to check things off. Who knows what she'll find?





Go Skinny Dipping? Um...
Source:
purchased
The perfect summer read--everything about
Since You've Been Gone
makes it perfect for summer. First of all, there's the cover and the fact that it's set in summer, but most importantly, this book is a super fun, mostly light, and romantic. It has a list of tasks for Emily to complete and a great group of people she becomes friends with. There are playlists, sweet inside jokes, funny and quotable moments, and just the right amount of feels. There is a very strange family, an amazing love interest, his funny best friend, a pizza girl, a great (but absent) best friend, and a very relatable heroine. It is the best friendship book I've read in a
long
time.
What else do you need in a summer read?
I really connected to Emily because I could relate to her quite a bit. I felt her emotions, especially in the moments when she felt absolutely alone. Surprisingly, those parts made me cry. There were two chapters where it was just so
sad
. I wasn't expecting that!
I loved Frank the moment he was introduced into the story. He was such a good friend, love interest, and character in general. His quirks made him so likable! He was amazing.
The romance was so sweet! However, friendship was the bigger focus. I loved how friendship was developed before romance came into the story (there were hints of it before that point, but just that--hints). Frank and Emily became very good friends and that just made their romance all the more stronger.
I
loved
the structure. Each chapter focused on one task of the list, which just felt nice to read. Each task got its own spotlight, which made completing them more important. There were also flashbacks throughout the story, which really helped me get to know Sloane. I didn't always like her because I was mad at her for just leaving without a word, but I ended up thinking she was an awesome character.
Overall, I loved
Since You've Been Gone
. It was a very fun read. There's really not much more to say that this: go read this book!
What books are perfect summer reads? Recommend some to me!