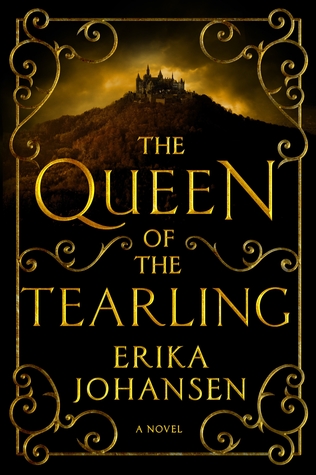 Series:
The Queen of the Tearling #1
Genre: YA/Adult fantasy
Pages: 448
Publication date: July 8th, 2014
Publisher: Harper
On her nineteenth birthday, Princess Kelsea Raleigh Glynn, raised in exile, sets out on a perilous journey back to the castle of her birth to ascend her rightful throne. Plain and serious, a girl who loves books and learning, Kelsea bears little resemblance to her mother, the vain and frivolous Queen Elyssa. But though she may be inexperienced and sheltered, Kelsea is not defenseless: Around her neck hangs the Tearling sapphire, a jewel of immense magical power; and accompanying her is the Queen's Guard, a cadre of brave knights led by the enigmatic and dedicated Lazarus. Kelsea will need them all to survive a cabal of enemies who will use every weapon—from crimson-caped assassins to the darkest blood magic—to prevent her from wearing the crown.




Despite her royal blood, Kelsea feels like nothing so much as an insecure girl, a child called upon to lead a people and a kingdom about which she knows almost nothing. But what she discovers in the capital will change everything, confronting her with horrors she never imagined. An act of singular daring will throw Kelsea's kingdom into tumult, unleashing the vengeance of the tyrannical ruler of neighboring Mortmesne: the Red Queen, a sorceress possessed of the darkest magic. Now Kelsea will begin to discover whom among the servants, aristocracy, and her own guard she can trust.




But the quest to save her kingdom and meet her destiny has only just begun—a wondrous journey of self-discovery and a trial by fire that will make her a legend…if she can survive.




The Queen of the Tearling introduces readers to a world as fully imagined and terrifying as that of The Hunger Games, with characters as vivid and intriguing as those of The Game of Thrones, and a wholly original heroine. Combining thrilling action and twisting plot turns, it is a magnificent debut from the talented Erika Johansen.
Source:
I received an e-arc of this bo
ok from the publisher through Edelweiss in return for an honest review.
There are times that I think high fantasy is completely amazing and I love it to pieces. Other times, though, I find it to be dreadfully boring and not for me at all. It just depends on the book.
The Queen of the Tearling
was the boring type. It started off decent--I thought I was going to really like reading the rest of it--but as I kept reading on, I just grew more and more bored and uninterested in what was happening. Well, in what WASN'T happening. I read half of the book and I feel like nearly nothing had actually happened. There was traveling. There were a few fights. Also, despite those fights, everything seemed to sail along too smoothly. Kelsea went on a journey back to the castle to claim her throne and . . . I just expected there to be more conflict with that from other characters. There was no RESISTANCE, which was why it seemed like nothing happened. Kelsea herself was a character I had very little interest in. I didn't connect with her and I just didn't find much about her to either like or dislike.
There were a couple bright points to this book that made me a bit reluctant to DNF it: the Red Queen and the Fetch. The scenes with them in it were the ones I was really interested in. If either of them had a more constant presence in the first half of the book, I may have actually wanted to read the rest of the book.
Unfortunately, though, I lost interest. I read several books while I was trudging through this one and whenever I finished one, I wanted to read anything but
The Queen of the Tearling
. The last day I read any of it, I read two or three percent then moved to something else because I was bored. Those two things are the biggest sign to me that I am better off DNFing a book.
This book wasn't for me, though all of my Goodreads friends (as well as those I just follow) that have read it have given it four or five stars.
The Queen of the Tearling
went well for them, and even though I have DNFed it, I expect it to go well for many more readers.