Welcome to my stop on the Open Thy Heart blog tour! Yesterday, I participated in the launch and today, I'm bringing you my review of the book.☺
(Psst...the first book in this series, If I Speak True, is currently $0.99 on for Kindle, Nook, and Kobo! If you want to know what I liked about that one, you can check out my review.)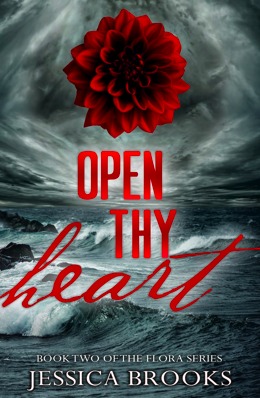 Series: Flora #2
Publication Date: September 16th, 2014




It's summer in Shaver and, frankly, Dahlia Kennedy is bored. Even though she and Eva are throwing a party for David and she gets to visit Rowan in Ambrosia easier on account of summer hours, it seems like senior year is never going to come. Worse yet, it's looking like the one thing she's planned on doing for forever isn't going to happen.





Cue Dahlia's Embarrassing Incident: the tipping point that seems to shift everything into a new direction. David's acting weird. Something happens to Rowan. Dahlia's forced to ask the least likely person ever for help. A secret is blown wide open.





Conflict between the Lennox Rochforts and the Townsends grows more and more out of control until so much is going on in Ambrosia, Dahlia can barely keep up with life at home. Frustrated with trying to keep track of who knows what, Dahlia continues fighting to help the people she loves, and slowly, the truth is exposed.





Crazy thing is, she had no idea about any of it. And it changes everything she's ever known.
Source:
I received a copy of this book from the author and Inkslinger PR in exchange for an honest review.
Open Thy Heart
was a delightful read! I don't think I liked it quite as much as
If I Speak True
, but it still felt like a great book.
Just like in book one, I loved Dahlia's POV. It was fun, fresh, and real. She was a great character with a personality that I really enjoyed. Actually, I really liked most of the characters' personalities. They were easy to sense and just seemed to shine throughout the book. The characters made the story for me.
I also liked how Dahlia's world became more mixed up with Ambrosia. I can't say much else without spoiling anything, so I'll just say it was nice to see.
The romance was okay. I wasn't a big fan of Rowan (he felt dull compared to David, the one I
wish
was the love interest) and I didn't sense as much chemistry between him and Dahlia as I should have. I loved the scenes with Dahlia and David, though. They had a great friendship and I spent a good majority of the book hoping for a love triangle. There was just something about him that I really, really liked.
I didn't like Ambrosia as much in this book. I just wasn't that interested in the things that were happening while Dahlia was there. Court politics/disputes among royal people/things along the line (involving princes/queens and some sort of conflict between them and other people)--things like that can get boring for me, so I wasn't surprised that I wasn't very interested in his aspect of the book.
Overall, I really enjoyed reading
Open Thy Heart
! The characters and their personalities were my favorite part and I'm really looking forward to seeing more of them in the next book. The ending to this one felt a little rushed, but it did leave me wanting to know what happens next in the story. If you haven't looked into this series yet, I suggest giving it a try! The first two books were both great and I'm sure the rest of the series will be as well.
This is between Dahlia and Rowan. Although I did say I'm not a big fan of Rowan, the kissing scenes were still really nice!
David! I really like this teaser.☺
Jessica L. Brooks is a lover of books, coffee, and all things owl-dorable. She writes young adult books about near-future dystopia (Pity Isn't An Option, Cozenage #1, available now) and magical realism (the Flora series); and loves to serve virtual cookies. Connect with her on her blog, Let Me Tell You A Story, Tumblr, or anywhere else on the interwebs by doing a search for her username: coffeelvnmom.
Twitter | Author Goodreads | Blog | Facebook | Tumblr |Instagram
Jessica has two great giveaways running! You don't want to miss out them!