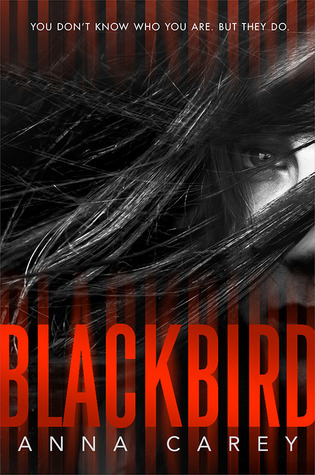 Series: Blackbird Duology #1
Genre: YA mystery/thriller
Pages: 256
Publication date: September 16th, 2014
Publisher: HarperTeen
This twisty, breathless cat-and-mouse thrill ride, told in the second person, follows a girl with amnesia in present-day Los Angeles who is being pursued by mysterious and terrifying assailants.




A girl wakes up on the train tracks, a subway car barreling down on her. With only minutes to react, she hunches down and the train speeds over her. She doesn't remember her name, where she is, or how she got there. She has a tattoo on the inside of her right wrist of a blackbird inside a box, letters and numbers printed just below: FNV02198. There is only one thing she knows for sure: people are trying to kill her.

On the run for her life, she tries to untangle who she is and what happened to the girl she used to be. Nothing and no one are what they appear to be. But the truth is more disturbing than she ever imagined.

The Maze Runner series meets Code Name Verity, Blackbird is relentless and action-packed, filled with surprising twists.
Source:
I received an e-arc of this book from the publisher through Edelweiss in return for an honest review.
Blackbird
was a very interesting read told in a unique point of view, but it was also . . . underwhelming.
The interesting part was the story. The main character's identity and past were shrouded in mystery and that kept me reading. i was curious. Why didn't she remember anything? What did her tattoo mean? Who was after her and, most importantly,
why
?
I also liked the little bit of romance. It was a reprieve for the main character, something normal among all the crazy things happening. I liked that. I liked the couple.
For the majority of the book, it felt oddly movie-like. I think that was because the second person POV (which I'll get to next) allowed me to picture what was going on so well. It reminded me of thriller movies that I've seen. It had the same feel as they did.
The POV was unique, but it was also tiring at times. I had to get used to the "you" starting so many sentences (the writing got a bit less tiring during the dialogue). There were a couple chapters told in third person, though! That broke up the second person POV a bit and allowed for more information to be revealed because it focused on other people aside from the main character.
Now, the underwhelming part. Throughout the entire book, I felt like I was sitting in the same spot with the expectation that something BIG was going to happen . . . but I was kept waiting and waiting some more. There were a lot of little things--small revelations, chases, action, that type of thing--and while I liked what was happening, I was underwhelmed. It always felt like I was left dangling--like I was cut off right before right before things could get really exciting. I just wanted something incredibly exciting to happen!
Looking back, I don't recall much character development. They just felt . . . flat. Ben was probably the only one that didn't feel like that for most of the book (I liked him). The main character wasn't
too
bad, but I wished she exhibited more emotions and growth.
Overall,
Blackbird
was good enough for me to want to finish the duology. It was quite underwhelming, though. I wanted more excited--not just near excitement. I wanted
more
. It was very interesting, but it wasn't quite thrilling.
Have you ever felt underwhelmed with a book that you wanted to be exciting?