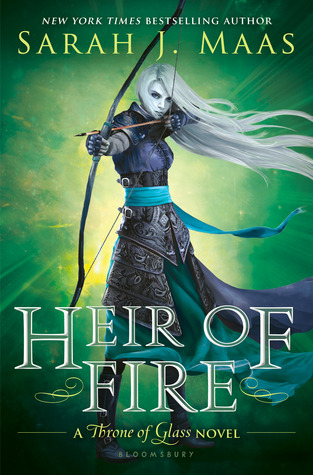 Series: Throne of Glass #3
Genre: YA fantasy
Pages: 565
Publication date: September 2nd, 2014
Publisher: Bloomsbury USA Childrens
Lost and broken, Celaena Sardothien's only thought is to avenge the savage death of her dearest friend: as the King of Adarlan's Assassin, she is bound to serve this tyrant, but he will pay for what he did. Any hope Celaena has of destroying the king lies in answers to be found in Wendlyn. Sacrificing his future, Chaol, the Captain of the King's Guard, has sent Celaena there to protect her, but her darkest demons lay in that same place. If she can overcome them, she will be Adarlan's biggest threat – and his own toughest enemy.




While Celaena learns of her true destiny, and the eyes of Erilea are on Wendlyn, a brutal and beastly force is preparing to take to the skies. Will Celaena find the strength not only to win her own battles, but to fight a war that could pit her loyalties to her own people against those she has grown to love?
Source:
I received an e-arc of this bo
ok from the publisher through Netgalley in return for an honest review.
Sarah J. Maas is amazing. Everything she's created in the the Throne of Glass series--the world, the characters, the conflicts, the magic, the relationships--is amazing. After finishing
Heir of Fire
, I lied back on my bed and alternated between between staring at my ceiling and my phone for twenty minutes, feeling as if words had left me. I was speechless. The fact that I had come to the end of HoF was one that I didn't want to believe because the book was SO GOOD and I didn't want it to end. This book and
Crown of Midnight
are by far the
best
books I've read so far this year and this entire series is easily my top favorite at the moment (and will be for quite awhile, I bet). I. Love. This. Series. If you haven't started reading it yet, go buy/borrow
Throne of Glass
or
The Assassin's Blade
and read it!
Can I just leave it at that? I guess I have to say
why
this series is so amazing . . . I'd rather you just take my word for it, but okay, I'll rattle off a short list of details that made me love HoF and the other books.
The worldbuilding is superb. The world has a lot of history that is relevant to the conflicts in the present. There's magic and action and bloodshed and secrets and all sorts of schemes. There's heart-wrenching twists and very intense scenes. There's so much
development
in the characters and pretty much every aspect of the series I can think of. In HoF specifically, I noticed a ton of development as new characters and conflicts were added into the mix of the ones that were still there. Celaena became an even
better
heroine. She seemed to grow in leaps and bounds in each book and HoF was no exception. She's definitely my favorite right now. I can't think of any others as strong and just plain awesome as her.
There's a lot I didn't mention, but every part of this book felt like it was pulled off incredibly well. It deserves every praise it receives.
I also should mention that HoF made me want to see this series on screen, which doesn't happen often for me (I don't get excited for most YA movie adaptations). If done correctly, these books would make epic movies.
Overall,
Heir of Fire
was truly amazing. I can't recommend it enough! The author seems to become an even stronger author with each book she writes and I'm so excited to read the rest of the series and all of the other books she writes in the future. If you have yet to start the Throne of Glass series, I strongly urge you to change that
soon
. You could be missing out on your next favorite books!