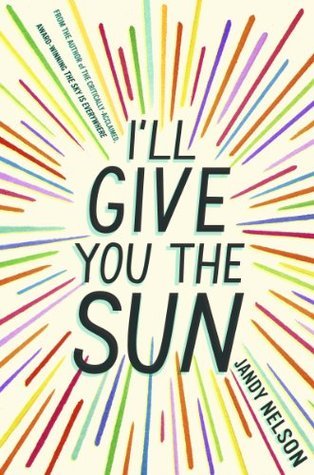 Series: standalone
Genre: YA contemporary
Pages: 384
Publication Date: September 16th, 2014
Publisher: Dial
A brilliant, luminous story of first love, family, loss, and betrayal for fans of John Green, David Levithan, and Rainbow Rowell




Jude and her twin brother, Noah, are incredibly close. At thirteen, isolated Noah draws constantly and is falling in love with the charismatic boy next door, while daredevil Jude cliff-dives and wears red-red lipstick and does the talking for both of them. But three years later, Jude and Noah are barely speaking. Something has happened to wreck the twins in different and dramatic ways . . . until Jude meets a cocky, broken, beautiful boy, as well as someone else—an even more unpredictable new force in her life. The early years are Noah's story to tell. The later years are Jude's. What the twins don't realize is that they each have only half the story, and if they could just find their way back to one another, they'd have a chance to remake their world.




This radiant novel from the acclaimed, award-winning author of

The Sky Is Everywhere

will leave you breathless and teary and laughing—often all at once.
Source:
I read a copy of this book on an ARC Tour. Thank you to the
gals behind
On the Same Page
!
I'll Give You the Sun
was such a beautiful read. It was wonderfully written and full of emotion--I cried and laughed smiled and worried and just plain
felt
as I read Jude and Noah's story. Both of their POVs were amazing and I can't decide if one was better than the other. The characters were very well developed and fleshed out. Each one had a vibrant personality that made them so lovable. The romances were swoon worthy. Giggle worthy too; the flirting was adorable and the characters' trains of thought were so funny! I loved how each relationship developed at a really nice pace and how every emotion that the characters had felt genuine. I loved the family focus and the strong bond the twins had, even when they were barely speaking. I loved how the characters' art, the beautiful writing, and the strong messages made the story feel like such an artistic one. I loved how
perfect
the title is for the book. Something about it just made certain parts of the story feel more meaningful because of how they connected to the title. I loved how quotable the book was and how happy reading it made me.
Overall,
I'll Give You the Sun
was fantastic. I finished the book with a smile on my face and tears rolling down my face because of how beautiful the story was and how perfectly it wrapped up. If you want to read something with beautiful writing, amazing characters, and a truly great story, look no further! This is a must-read for you.
This book was very quotable, so I have some great quotes to share!
(All of these quotes are taken from the ARC and may have been changed in the final copy of the book.)
"Still a reckless idiot, yes, but damn, he looks fine, sitting on that bike on this sunny winter day. Guys like him really shouldn't be allowed on motorcycles. They should have to bounce around on pogo sticks, or better: Hippity Hops. And no hot guy should be allowed to have and English accent and drive a motorcycle.
Not to mention wear the leather jacket or sport the cool shades. Hot guys should be forced into footie pajamas.
Yes, yes, the boycott, the boycott." ~ Jude (ARC 174-175)
"Oscar starts taking off his clothes.
I repeat: Oscar is taking off his clothes!" ~ Jude (ARC 188)
"'God was very drunk when he made him. A little bit of this. A little bit of that. Brown eye. Green eye. Crooked nose, crooked mouth. Lunatic smile. Chipped tooth. Scar here, scar there. It is a puzzle.'" ~ Guillermo (ARC 192)
"No woman can resist a man who has tidal waves and earthquakes beneath the skin." ~ Jude, about Guillermo (ARC 204)
"I'm over being a coward. I'm sick of being on pause, of being buried and hidden, of being petrified, in both senses of the word." ~ Jude (ARC 311)
Some more quotes are in my Reading Progress:
What was your last 5-star read?