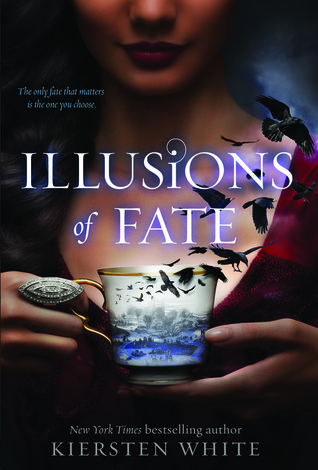 Series: standalone
Genre: YA fantasy
Pages: 288
Publication date: September 9th, 2014
Publisher: HarperTeen
Downton Abbey meets Cassandra Clare in this lush, romantic fantasy from New York Times bestselling author Kiersten White.



"I did my best to keep you from crossing paths with this world. And I shall do my best to protect you now that you have."



Jessamin has been an outcast since she moved from her island home of Melei to the dreary country of Albion. Everything changes when she meets Finn, a gorgeous, enigmatic young lord who introduces her to the secret world of Albion's nobility, a world that has everything Jessamin doesn't—power, money, status…and magic. But Finn has secrets of his own, dangerous secrets that the vicious Lord Downpike will do anything to possess. Unless Jessamin, armed only with her wits and her determination, can stop him.





Kiersten White captured readers' hearts with her New York Times bestselling Paranormalcy trilogy and its effortless mix of magic and real-world teenage humor. She returns to that winning combination of wit, charm, and enchantment in Illusions of Fate, a sparkling and romantic new novel perfect for fans of Cassandra Clare, The Madman's Daughter, and Libba Bray.
Source:
I received an e-arc of this book from the publisher through Edelweiss in return for an honest review.
Look at the cover of
Illusions of Fate
. See how beautiful and rich and magical it is? Well, that's how the
inside
is as well. The cover and the story are perfect for one another. I had a feeling this would turn out to be my favorite Kiersten White book so far and I was right! It was fun and witty. It had this rich historical feel that I simply loved as well as decent characters and big twists that HURT. There was a nice romance, though I wished to see more chemistry between the two characters. There was a bird (named Sir Bird) that I kinda grew attached to and an evil villain that I despised. Overall, the book was a very enjoyable read! I had a lot of fun reading it!
The notes I took in my notebook immediately after finishing the book (they're slightly revised because I actually wrote a few as I was reading). I waited a really long time (an entire month) before writing the review and since it turned out to be really short, I thought it would be fun to share my notes with you!
Witty MC - Love her!

Finn is pretty funny too

Rich

historical feel

Mysterious things were happening!

Birds - an interesting part

Creepy villain - very evil

Magical!

Has birds that turn into books

Sir Bird - I really liked him!

Made my heart hurt at the end

BIG TWIST at end - I didn't see it coming

Cover represents so well

Eleanor --> delightful character. She was so

nosy

and funny

I wished to see more chemistry between Finn and Jessa

The ending felt a bit rushed

I was a little confused on some of the why's and how's of the story, but things were explained and it all (mostly) made sense by the end.
Here is my reading progress from Goodreads too.☺
What is a book you read where its cover represented its story very well?