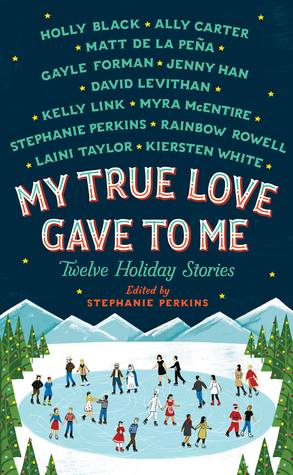 Series: anthology
Genre: YA mix (contemporary, paranormal)
Pages: 320
Publication date: October 14th, 2014
Publisher: St. Martin's Press



If you love holiday stories, holiday movies, made-for-TV-holiday specials, holiday episodes of your favorite sitcoms and, especially, if you love holiday anthologies, you're going to fall in love with MY TRUE LOVE GAVE TO ME: TWELVE HOLIDAY STORIES by twelve bestselling young adult writers, edited by international bestselling author Stephanie Perkins.
Source:
I received an e-arc of this book from the publisher in return for an honest review.
My True Love Gave To Me
is a heartwarming and diverse collection of romantic holiday stories. They were mostly contemporary, but some paranormal and fantasy were mixed in as well. Most left me smiling because they were so darn adorable! I read a story here and there for around two weeks and I really liked getting a little dose of the book nearly every day. They were nice breaks between full length novels.
My favorite story out of all twelve was Stephanie Perkins' "It's a Yuletide Miracle, Charlie Brown." I loved the characters' banter and the way they get to know each other. They were the most memorable out of every one in the book for me. I also loved the characters in "Angels in the Snow" by Matt de la Peña. It was the first time I'd ever read anything by him and now I'm very interested in trying his full length novels! "Midnights" by Rainbow Rowell was absolutely adorable and "What the Hell Have You Done, Sophie Roth" by Gayle Forman was pretty funny. Kiersten White's "Welcome to Christmas, California" seemed to be the most heartwarming out of all the stories for me.
There were a few that I didn't care much for. Those were mainly the paranormal/fantasy ones because they didn't seem to hold as much holiday spirit. That said, my least favorite was a tie between "Krampuslauf" by Holly Black and "The Girl Who Woke the Dreamer by Laini Taylor. They just didn't interest me very much. They weren't necessarily bad stories, though!
Overall,
My True Love Gave To Me
is perfect to read during the holiday season and even great to read any other time in the year. The stories were short, romantic, and very enjoyable!
Each update is my reaction after finishing each story.
Do you like reading holiday stories?