I love books with romance in them, but it seems that I haven't come across that many amazing ones lately. So, I decided to make a TBR Jar just for those books that may have great romance in them and to read at least one book from it each month. I wanted to make the choice more fun, so I'm going to let you vote for what I should read! (Plus, I'm hoping this gives me more motivation to actually get to the book instead of just reading e-arc after e-arc like I usually do.)
I'm going to leave the poll up for the rest of the month and announce which romance I'll read in October on this month's recap post.
Here are the titles I pulled out of the jar:
A Little Something Different by Sandy Hall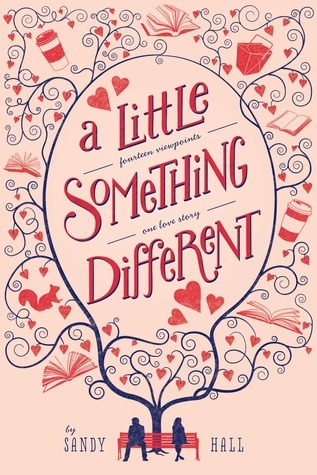 The creative writing teacher, the delivery guy, the local Starbucks baristas, his best friend, her roommate, and the squirrel in the park all have one thing in common—they believe that Gabe and Lea should get together. Lea and Gabe are in the same creative writing class. They get the same pop culture references, order the same Chinese food, and hang out in the same places. Unfortunately, Lea is reserved, Gabe has issues, and despite their initial mutual crush, it looks like they are never going to work things out. But somehow even when nothing is going on, something is happening between them, and everyone can see it. Their creative writing teacher pushes them together. The baristas at Starbucks watch their relationship like a TV show. Their bus driver tells his wife about them. The waitress at the diner automatically seats them together. Even the squirrel who lives on the college green believes in their relationship.





Surely Gabe and Lea will figure out that they are meant to be together....
This is one of the newest additions to my shelf! It looks cute and I've been recommended it quite a bit.
The Sea of Tranquility by Katja Millay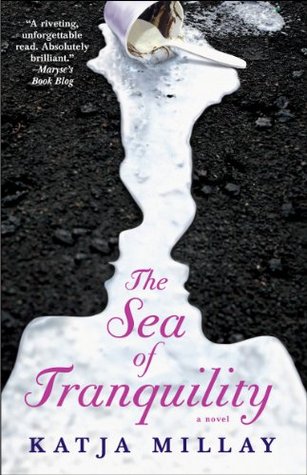 I live in a world without magic or miracles. A place where there are no clairvoyants or shapeshifters, no angels or superhuman boys to save you. A place where people die and music disintegrates and things suck. I am pressed so hard against the earth by the weight of reality that some days I wonder how I am still able to lift my feet to walk.





Former piano prodigy Nastya Kashnikov wants two things: to get through high school without anyone learning about her past and to make the boy who took everything from her—her identity, her spirit, her will to live—pay.





Josh Bennett's story is no secret: every person he loves has been taken from his life until, at seventeen years old, there is no one left. Now all he wants is be left alone and people allow it because when your name is synonymous with death, everyone tends to give you your space.





Everyone except Nastya, the mysterious new girl at school who starts showing up and won't go away until she's insinuated herself into every aspect of his life. But the more he gets to know her, the more of an enigma she becomes. As their relationship intensifies and the unanswered questions begin to pile up, he starts to wonder if he will ever learn the secrets she's been hiding—or if he even wants to.



The Sea of Tranquility

is a rich, intense, and brilliantly imagined story about a lonely boy, an emotionally fragile girl, and the miracle of second chances.
This book comes so highly recommended from so many people! This looks like one I'm guaranteed to love to pieces (and cry my eyes out while reading it).
Cress by Marissa Meyer
In this third book in the Lunar Chronicles, Cinder and Captain Thorne are fugitives on the run, now with Scarlet and Wolf in tow. Together, they're plotting to overthrow Queen Levana and her army.





Their best hope lies with Cress, a girl imprisoned on a satellite since childhood who's only ever had her netscreens as company. All that screen time has made Cress an excellent hacker. Unfortunately, she's just received orders from Levana to track down Cinder and her handsome accomplice.





When a daring rescue of Cress goes awry, the group is separated. Cress finally has her freedom, but it comes at a high price. Meanwhile, Queen Levana will let nothing prevent her marriage to Emperor Kai. Cress, Scarlet, and Cinder may not have signed up to save the world, but they may be the only hope the world has.
Yep. I still haven't read this! I've really liked this series.☺
(This one is actually a replacement for Between the Devil and the Deep Blue Sea. Due to some book pushing on Twitter, I decided to just start that one after I post this!)
The Evolution of Mara Dyer by Michelle Hodkin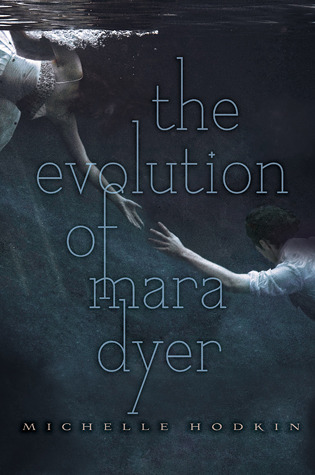 Mara Dyer once believed she could run from her past.




She can't.




She used to think her problems were all in her head.




They aren't.




She couldn't imagine that after everything she's been through, the boy she loves would still be keeping secrets.




She's wrong.




In this gripping sequel to The Unbecoming of Mara Dyer, the truth evolves and choices prove deadly. What will become of Mara Dyer next?
I have The Unbecoming of Mara Dyer on my "awesome" shelf (for books that really stand out to me, even if they're not necessarily favorites) on Goodreads. I loved the romance in that one, so I'm sure I would love it in the sequel!
Personally, these books are very tough to choose from because I really want to read each! I'm behind in e-arcs (and will be for awhile), so I'm only planning to squeeze one of them in for October.
Time to vote!