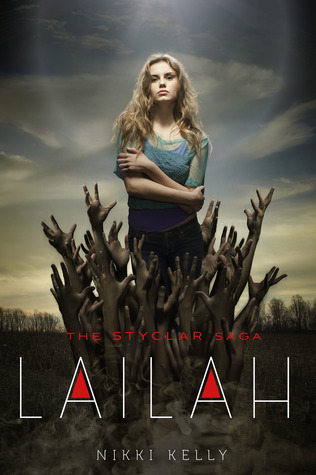 Series: The Styclar Saga #1
Genre: YA paranormal
Pages: 352
Publication Date: October 7th, 2014
Publisher: Feiwel and Friends



The girl knows she's different. She doesn't age. She has no family. She has visions of a past life, but no clear clues as to what she is, or where she comes from. But there is a face in her dreams – a light that breaks through the darkness. She knows his name is Gabriel.





On her way home from work, the girl encounters an injured stranger whose name is Jonah. Soon, she will understand that Jonah belongs to a generation of Vampires that serve even darker forces. Jonah and the few like him, are fighting with help from an unlikely ally – a rogue Angel, named Gabriel.





In the crossfire between good and evil, love and hate, and life and death, the girl learns her name: Lailah. But when the lines between black and white begin to blur, where in the spectrum will she find her place? And with whom?





Gabriel and Jonah both want to protect her. But Lailah will have to fight her own battle to find out who she truly is.
Source:
I received an e-arc of this book from the publisher in return for an honest review.
This book made me SAD. It wasn't because of any heartbreaking moments or deaths. No. It was because this book was one of my most anticipated fall 2014 releases and I didn't even end up finishing it. In fact, I didn't even make it through
half
of it. I DNFed it at 39 percent.
The biggest downfall for this book was the writing. It felt over over embellished. A lot of descriptions irritated me because it felt like too
much
. There were so many insignificant details that distracted me from the story and the characters. There were also quite a few descriptions that felt awkward and forced, like they were just thrown in there to sound fancy. Some repeated details annoyed me too. The fact that Gabriel was a gorgeous guy was brought up enough to make me yell at my Kindle. Lailah's clothing and style choices were brought up a lot too. She was an insecure character and what she decided to wear reflected that. While I actually liked the idea of the clothing doing that, the multiple times her style was mentioned made her insecurity less natural. These were such small details--shoes, a shirt, comparison to another character--but they were off putting. They distracted me.
Speaking of Lailah . . . she bored me for the most part. Other than being insecure, I couldn't get a good grasp on what her personality was like. She didn't make a big impression on me, so sadly, I don't really have much else to say about her.
Another big downfall of this book was the cliches. There was a unique and special heroine that was obviously pretty but didn't seem to know that she was. The love interests were both extremely attractive. Oh, and don't forget that one is a bad boy and one is a good guy (a vampire versus and angel). The story itself didn't seem to have very many special parts to it. I've loved many paranormal romances despite their cliches, but combined with the writing and the flat main character, they didn't work for me at all.
Overall, what I did read of
Lailah
was very disappointing. It makes me so sad that I felt like a black sheep while reading it. I know quite a few people who loved it, but considering how many things I didn't like--from boring main character to small yet irritating details--I don't think my opinion of the book would've improved much if I ended up finishing it.