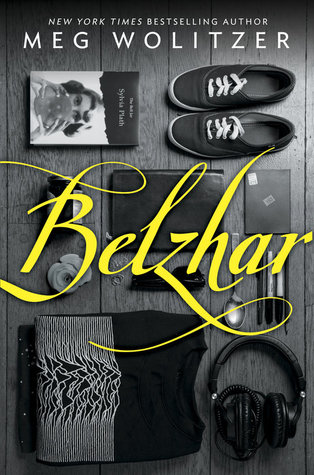 Series: standalone
Genre: YA magical realism
Pages: 364
Publication date: September 30th, 2014
Publisher: Dutton Juvenile
If life were fair, Jam Gallahue would still be at home in New Jersey with her sweet British boyfriend, Reeve Maxfield. She'd be watching old comedy sketches with him. She'd be kissing him in the library stacks.





She certainly wouldn't be at The Wooden Barn, a therapeutic boarding school in rural Vermont, living with a weird roommate, and signed up for an exclusive, mysterious class called Special Topics in English.





But life isn't fair, and Reeve Maxfield is dead.





Until a journal-writing assignment leads Jam to Belzhar, where the untainted past is restored, and Jam can feel Reeve's arms around her once again. But there are hidden truths on Jam's path to reclaim her loss.





From New York Times bestselling author Meg Wolitzer comes a breathtaking and surprising story about first love, deep sorrow, and the power of acceptance.
Source:
Thank you to the gals behind On the Same Page for organizing an ARC tour for this book!
I have very mixed thoughts on
Belzhar
. The story was fascinating and the idea of the novel as a whole was brilliant, but many aspects of it were massively disappointing. It could've been executed so. Much. Better. There could've been so much more meaning infused within its pages to create a larger impact on its reader.
Belzhar was a world that the select number (five in this case) went into when they wrote in their red journals their teacher gave them. The characters were taken to taken to a place where the most horrible thing that happened in their life hadn't happened and they got back a loved one or a life they had lost in some way. Doesn't that sound
interesting
? Furthermore, the class the Jam (the MC) and the others were in focused on Sylvia Plath and her writing (mainly
The Bell Jar
). This concept was fascinating. I LOVED it. It was a really creative idea. However . . . there were so many flaws in its execution.
First of all, the connection to Sylvia Plath was not very strong. The class had discussions on what they read--well, Jam SAID they did. There was almost no discussion being shown. The fact that they talked in class was mentioned, but there was little dialogue and discussing going on. This was the first major disappointment for me because I
love
reading books that connect to others in the way this one was supposed to.
Secondly, the teacher. She was pretty awesome. She had a great personality and (apparently) had a big impact on her students. The problem, though, was that she wasn't even in the story enough for me to sense that impact well. The setup of the classroom and the teacher/student bonds reminded me of a mix between The Freedom Writers and the Dead Poets' Society. Unlike the teachers in those movies, though, the one in
Belzhar
didn't feel like that significant of a character. I feel like she was meant to be really important, but her presence wasn't very noticeable.
Thirdly, I didn't feel the bonds between characters. I
think
they formed special connections, but those didn't seem developed enough. I wasn't convinced that Jam cared deeply for those she said she did.
All three of these things made
Belzhar
fall short of its full potential. I still really enjoyed reading it and I liked the individual characters and the way the story concluded, but that wasn't enough to make me love the book. It could've been so much more! Sylvia Plath could've been incorporated more and that connection could've intensified the meaning of the story as a whole. The teacher could've been in more scenes and her impact on the characters and the reader could've been made stronger. The bonds between the characters could've been developed more and I could've connected to them more--cared about them more.
Overall, the story and concept of
Belzhar
made reading it worthwhile. Even though there was a lot I was disappointed in, the book was very interesting to read. In some aspects, it was brilliant. However, those parts weren't brilliantly executed. The book's full potential wasn't met.