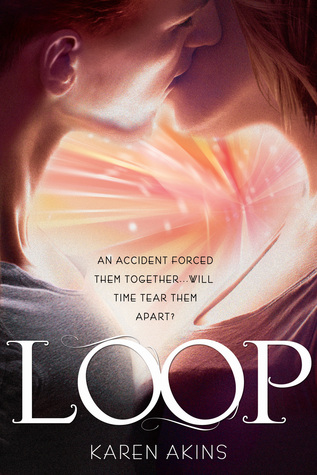 Series: Loop #1
Genre: YA science fiction
Pages: 336
Publication Date: October 21st, 2014
Publisher: St. Martin's Griffin



At a school where Quantum Paradox 101 is a required course and history field trips are literal, sixteen year-old time traveler Bree Bennis excels…at screwing up.





After Bree botches a solo midterm to the 21st century by accidentally taking a boy hostage (a teensy snafu), she stands to lose her scholarship. But when Bree sneaks back to talk the kid into keeping his yap shut, she doesn't go back far enough. The boy, Finn, now three years older and hot as a solar flare, is convinced he's in love with Bree, or rather, a future version of her that doesn't think he's a complete pain in the arse. To make matters worse, she inadvertently transports him back to the 23rd century with her.





Once home, Bree discovers that a recent rash of accidents at her school are anything but accidental. Someone is attacking time travelers. As Bree and her temporal tagalong uncover seemingly unconnected clues—a broken bracelet, a missing data file, the art heist of the millennium—that lead to the person responsible, she alone has the knowledge to piece the puzzle together. Knowledge only one other person has. Her future self.





But when those closest to her become the next victims, Bree realizes the attacker is willing to do anything to stop her. In the past, present, or future.
Source:
I received an e-arc of this book from the publisher in return for an honest review.
Loop
was such a fun read! There were twists and turns and loops
everywhere
. A lot was going on in this book and while it could've gotten a bit confusing or too much, the author made everything work. She did well with creating this time travel adventure.
Unlike a lot of people, I'm not much of a fan of time travel. I definitely loved it in this book, though! There were plenty of cool science-y/technical parts of Shifting, but what made me love this part was how twisted it made the story. For example, Finn and Bree. For the majority of the book, present Bree (the narrator) interacted with Finn (a guy from a couple centuries prior to her time) who--and this was only a small portion of he twistedness--had a relationship with Future Bree (the narrator's future self). There were present, future, and sometimes even past different versions of quite a few characters. There were certain things that present Bree or others had to do in order to make past events happen. Timelines were all mixed up, but in the best possible way.
The characters were so good! I connected with them and remained invested in them throughout the entire book. Bree was a really fumy heroine. Her voice was a big reason why
Loop
was so fun to read. Finn was
cute
. A bit silly, too. I loved how he had a relationship with Bree's future self because he was already mostly comfortable with her (the past version of the girl he knew) and had pre-existing feelings for her. She, however, barely knew him at all. They were pretty entertaining to read about as they got to know each other. I adored them!
As for the other characters, I loved how they added to the element of surprise (I would say how, but that would be spoilery). I also really liked how each had a personality easily distinguishable from the others as well as how the bad guys had some weak and/or good sides to them.
The tone of this book was light for the most part, but it had many serious moments mixed in. It was light, but not fluffy.
Overall,
Loop
impressed me with its many twists and turns, great characters, adorable romance, and interesting plot. I highly recommend reading this one and joining me as I anxiously wait for the sequel!
Are you a fan of time travel in books?