As I introduced this last month . . .
I love books with romance in them, but it seems that I haven't come across that many amazing ones lately. So, I decided to make a TBR Jar just for those books that may have great romance in them and to read at least one book from it each month. I wanted to make the choice more fun, so I'm going to let you vote for what I should read! (Plus, I'm hoping this gives me more motivation to actually get to the book instead of just reading e-arc after e-arc like I usually do.)
I was going to wait until later this month to post the next poll, but I'm too impatient. Plus, I have to announce the winner of last month's poll!
The winner of the September poll is . . .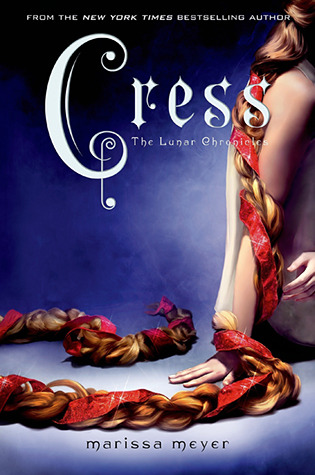 Cress by Marissa Meyer!
It received a total of 26 votes out of the total of 65! Thank you so much to everyone who voted. It was a lot of fun to have you vote on what I should read.☺ I'll read Cress sometime this month (maybe even on my birthday weekend).
Now, it's time to reveal the choices for the next poll!
It's been awhile since I've read an NA book and since I've recently gotten quite a few for my Kindle/bookshelf, I thought it would be a good idea to have you vote on NA books. I picked slips from the jar until I got four titles that fit. Here's the choices:
All of You by Christina Lee
Avery has just met her hot upstairs neighbor. He's irresistible. Tattooed. And a virgin.





Nursing student Avery Michaels wants nothing to do with dating—she's perfectly happy single. Privy to too many of her mother's bad decisions and even worse taste in boyfriends, all Avery can handle is a string of uncomplicated hookups whenever the mood strikes.





When she meets smoking hot tattoo artist Bennett, she wants him—for just one night. But he won't accept a no-strings-attached arrangement. He lives by a straight-laced code of values based on his own troubled upbringing.





Bennett sees something special in Avery and he wants more from her. Way more. As Avery wrestles with her emotions for Bennett, danger and tragedy force them to open up to each other. And Avery must face the terrifying realization that she wants more from him, too.





So she needs to make a choice—let Bennett go or finally let him

in

.
I recently won this one. It's pretty new-to-me, but it does look pretty good. And it's short!
Maybe Someday by Colleen Hoover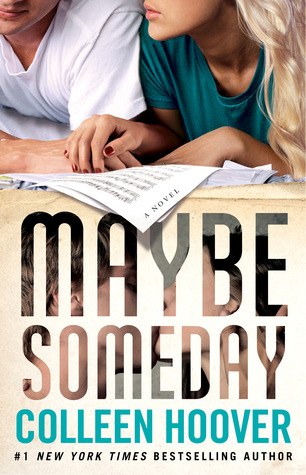 At twenty-two years old, aspiring musician Sydney Blake has a great life: She's in college, working a steady job, in love with her wonderful boyfriend, Hunter, and rooming with her good friend, Tori. But everything changes when she discovers Hunter cheating on her with Tori—and she is left trying to decide what to do next.





Sydney becomes captivated by her mysterious neighbor, Ridge Lawson. She can't take her eyes off him or stop listening to the daily guitar playing he does out on his balcony. She can feel the harmony and vibrations in his music. And there's something about Sydney that Ridge can't ignore, either: He seems to have finally found his muse. When their inevitable encounter happens, they soon find themselves needing each other in more ways than one…





From #1 New York Times bestselling author Colleen Hoover, a passionate tale of friendship, betrayal, and romance—and the enchanting music that inspires one young woman to put her life back together.
I won this with All of You! (I got both from Christina Lee.) Colleen Hoover was the one that wrote my favorite book of 2013 (Hopeless), but I have yet to read any of her other full length novels.
Just For Now by Abbi Glines
An insatiable attraction heats to the boiling point in this steamy book set in the shore town of Sea Breeze from the author of the white-hot The Vincent Boys.




Preston is one bad boy. And Amanda has harbored a crush on him for forever. When she finally makes her move on him, it does not end well. But still, she can't resist him. Especially now that he seems to be pursuing her, too.





No one wants wants them to be together. Not Amanda's brother Marcus, who is on the verge of his marriage to Low, and definitely not any of Preston's buddies. They know way too much about Preston's dark side. Even Preston realizes he's not good enough for someone like her.





But Amanda believes there is more to Preston than his bad boy persona, and she is determined to unearth what he's hiding behind his seductive blue eyes—secrets that could explain his actions. Secrets Amanda might not be able to forgive.





Yet the dangerous attraction persists...and neither Preston nor Amanda is going to deny it.
Because of Low and While It Lasts are two of my favorite NAs, so I'm pretty sure I would love this one. I have a ton of catching up to do in this series.
At 21, Calla hasn't done a lot of things. She's never been kissed, never seen the ocean, never gone to an amusement park. But growing up, she witnessed some things no child ever should. She still carries the physical and emotional scars of living with a strung-out mother, Mona—secrets she keeps from everyone, including her close circle of college friends.




But the safe cocoon Calla has carefully built is shattered when she discovers her mom has stolen her college money and run up a huge credit card debt in her name. Now, Calla has to go back to the small town she thought she'd left behind and clean up her mom's mess again. Of course, when she arrives at her mother's bar, Mona is nowhere to be found. Instead, six feet of hotness named Jackson James is pouring drinks and keeping the place humming.




Sexy and intense, Jax is in Calla's business from the moment they meet, giving her a job and helping her search for Mona. And the way he looks at her makes it clear he wants to get horizontal . . . and maybe something more. Before Calla can let him get close, though, she's got to deal with the pain of the past—and some very bad guys out to mess her up if she doesn't give them her mom.
Wait For You is one of my favorite NAs! I didn't love Be With Me quite as much, but I still enjoyed it. I don't believe I've ever not enjoyed reading a book by this author.☺
Time to vote!