Afterworlds by Scott Westerfeld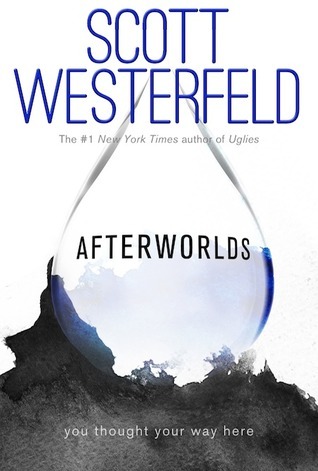 Genre:
YA contemporary / paranormal
Pages: 599
Publication date: September 23rd, 2014
Publisher: Simon Pulse
Darcy Patel has put college and everything else on hold to publish her teen novel, Afterworlds. Arriving in New York with no apartment or friends she wonders whether she's made the right decision until she falls in with a crowd of other seasoned and fledgling writers who take her under their wings…



Told in alternating chapters is Darcy's novel, a suspenseful thriller about Lizzie, a teen who slips into the 'Afterworld' to survive a terrorist attack. But the Afterworld is a place between the living and the dead and as Lizzie drifts between our world and that of the Afterworld, she discovers that many unsolved - and terrifying - stories need to be reconciled. And when a new threat resurfaces, Lizzie learns her special gifts may not be enough to protect those she loves and cares about most.
Source:
I received an e-arc of this book in exchange for an honest review.
I'm reluctantly DNFing this one . . . for now. As always, Scott Westerfeld is super creative. The ideas of this book were incredible and I really liked reading Darcy's story (Lizzie's story was okay; I don't have much to say about it). It was interesting to read about an main character that was an author. However, this book is so
long
. It was a bit slow for me too. I made the mistake of reading other books while reading this one, which just slowed me down even more. I tend to lose my connection with a book if I spend a long time reading it, and since I started this one almost three weeks before deciding to finally set it aside to read another time, my connection was completely lost. I'll try this book again sometime (probably in print) because it really is a great book. I just need to read it when I have the time to focus solely on the stories inside it.
The Body Electric by Beth Revis
Genre: YA dystopia / science fiction
Pages: 363
Publication Date: October 6th, 2014
Publisher: Scripturient Books
The future world is at peace.




Ella Shepherd has dedicated her life to using her unique gift--the ability to enter people's dreams and memories using technology developed by her mother--to help others relive their happy memories.





But not all is at it seems.




Ella starts seeing impossible things--images of her dead father, warnings of who she cannot trust. Her government recruits her to spy on a rebel group, using her ability to experience--and influence--the memories of traitors. But the leader of the rebels claims they used to be in love--even though Ella's never met him before in her life. Which can only mean one thing...





Someone's altered her memory.




Ella's gift is enough to overthrow a corrupt government or crush a growing rebel group. She is the key to stopping a war she didn't even know was happening. But if someone else has been inside Ella's head, she cannot trust her own memories, thoughts, or feelings.





So who can she trust?
Source:
I received an e-arc of this book in exchange for an honest review.
I'm DNFing
The Body Electric
at 76 percent because it wasn't holding my attention anymore. There were some cool concepts and decent characters, but I wasn't very interested in what was happening in the story. I became sort of . . . indifferent towards most parts. As a result, there isn't much of anything I can say about the book. Bigger fans of sci-fi and dystopia would probably love this because the technology and conflict seem to fit the genre really well.
Sweet Unrest by Lisa Maxwell
Pages: 336
Publication Date: October 8th, 2014
Publisher: Flux
Lucy Aimes has always been practical. But try as she might, she can't come up with a logical explanation for the recurring dreams that have always haunted her. Dark dreams. Dreams of a long-ago place filled with people she shouldn't know…but does.





When her family moves to a New Orleans plantation, Lucy's dreams become more intense, and her search for answers draws her reluctantly into the old city's world of Voodoo and mysticism. There, Lucy finds Alex, a mysterious boy who behaves as if they've known each other forever. Lucy knows Alex is hiding something, and her rational side doesn't want to be drawn to him. But she is.





As she tries to uncover Alex's secrets, a killer strikes close to home, and Lucy finds herself ensnared in a century-old vendetta. With the lives of everyone she loves in danger, Lucy will have to unravel the mystery of her dreams before it all comes to a deadly finish.
Source:
I received an e-arc of this book in exchange for an honest review.
Unfortunately,
Sweet Unrest
was doing nothing for me. None of the characters nor the plot interested me and I didn't really care about what was happening in the book. I made it through 38 percent before deciding to move on to other books that I may enjoy reading more. This one just wasn't for me.