I need to catch up in posting some reviews, so I'm going to have some posts with a few reviews each.
Kiss of Broken Glass by Madeleine Kuderick


Genre:
YA contemporary
Pages: 224
Publication date: September 9th, 2014
Publisher: HarperTeen
Madeleine Kuderick's gripping debut is a darkly beautiful and lyrical novel in verse, perfect for fans of Sonya Sones and Laurie Halse Anderson.

Kiss of Broken Glass

pulses with emotion and lingers long after the last page.





In the next seventy-two hours, Kenna may lose everything—her friends, her freedom, and maybe even herself. One kiss of the blade was all it took to get her sent to the psych ward for seventy-two hours. There she will face her addiction to cutting, though the outcome is far from certain.





When fifteen-year-old Kenna is found cutting herself in the school bathroom, she is sent to a facility for mandatory psychiatric watch. There, Kenna meets other kids like her—her roommate, Donya, who's there for her fifth time; the birdlike Skylar; and Jag, a boy cute enough to make her forget her problems . . . for a moment.
Source:
I received an e-arc of this book from the publisher in return for an honest review.
When I started
Kiss of Broken Glass
, I immediately liked it. The writing was raw and beautiful. So much of Kenna's feelings were packed into so few words and I just LOVED that. Novels in verse are some of my favorites in terms of writing style. They're wonderful to read!
The downside of this book is its length and development. It was a super quick read and with most shorter books, I find myself not
completely
invested in the story. It felt underdeveloped as did the characters. I didn't truly get to know them enough to really connect with them.
I really like more serious topic and themes because they tend to have a larger emotional impact on me, so the cutting, addiction, and recovery in this book worked for me. Kenna's journey towards her first steps of recovering was worth the read.
Overall,
Kiss of Broken Glass
felt short in its development, but made an impression in its writing style and story. I recommend this for fans of realistic fiction written in verse, but not for those who have trouble connecting to shorter books.
The Perilous Sea by Sherry Thomas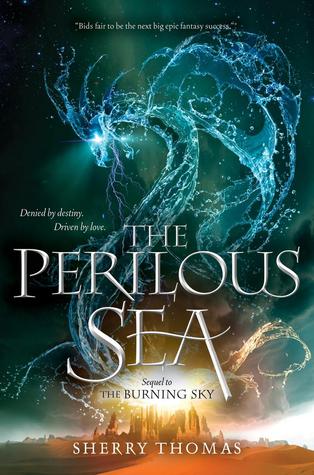 Series: The Elemental Trilogy #2
Genre: YA fantasy
Pages: 414
Publication Date: September 16th, 2014
Publisher: Balzer + Bray
After spending the summer away from each other, Titus and Iolanthe (still disguised as Archer Fairfax) are eager to return to Eton College to resume their training to fight the Bane. Although no longer bound to Titus by a blood oath, Iolanthe is more committed than ever to fulfilling her destiny—especially with the agents of Atlantis quickly closing in.





Soon after arriving at school, though, Titus makes a shocking discovery, one that makes him question everything he previously believed about their mission. Faced with this devastating realization, Iolanthe is forced to come to terms with her new role, while Titus must choose between following his mother's prophecies—and forging a divergent path to an unknowable future.
Source:
I received an e-arc of this book from the publisher in exchange for an honest review.
The Perilous Sea
as a nice continuation of the story started in
The Burning Sky
. I didn't connect to the sequel as much as the first book, though. I really liked how this one was split into two alternating sections: Iolanthe and Titus in the desert without any recollection of who they were or how they got there and then the two in the events that led to them being stranded. Their interactions were fun to read when they didn't know who each other (or even themselves) were. I loved their chemistry! I wasn't as invested in the plot as I was while reading book one, but I'm looking forward to seeing what happens next. Overall,
The Perilous Sea
had great magic, an interesting world, and a decent romance.
Don't Touch by Rachel M. Wilson
Genre: YA contemporary
Pages: 415
Publication date: September 2nd, 2014
Publisher: HarperTeen
A powerful story of a girl who is afraid to touch another person's skin, until the boy auditioning for Hamlet opposite her Ophelia gives her a reason to overcome her fears.



Step on a crack, break your mother's back. Touch another person's skin, and Dad's gone for good.



Caddie can't stop thinking that if she keeps from touching another person's skin, her parents might get back together…which is why she wears full-length gloves to school and covers every inch of her skin.





It seems harmless at first, but Caddie's obsession soon threatens her ambitions as an actress. She desperately wants to play Ophelia in her school's production of Hamlet. But that would mean touching Peter, who's auditioning for the title role—and kissing him. Part of Caddie would love nothing more than to kiss Peter—but the other part isn't sure she's brave enough to let herself fall.





Perfect for fans of Laurie Halse Anderson, this debut novel from Rachel M. Wilson is a moving story of a talented girl who's fighting an increasingly severe anxiety disorder, and the friends and family who stand by her.
Source:
I received an e-arc of this book from the publisher in exchange for an honest review.
Don't Touch
was such a good read! It was a great story about overcoming fear and battling a mental illness. I was sucked into Caddie's story and had a very hard time pulling away from it. It was interesting. And fun! The subject was a serious one, but at the same time, the characters and their big, bright personalities made me smile. I loved the roles Caddie's friends had in her story. They were there for her as she struggled and never gave up, even when they didn't understand her. I also loved how they weren't the ones that made her get better. They supported her, but Caddie's steps towards overcoming her fear were clearly due to her decision to make them.
One of my favorite parts of this book is how well it connects to
Hamlet
. I love it when a modern story connects to older pieces of literature. Caddie had a true connection with Ophelia and I loved how it seemed to help her grow. This part made me appreciate
Hamlet
a little more. Plus, the rehearsing and preparation added something extra and special to the book. I like reading books where characters act in plays.
Overall,
Don't Touch
was definitely worth reading. Other than a couple areas where I felt like the book didn't flow as much as it could have, there wasn't much of anything that I didn't like. It was an enjoyable, yet emotional and impacting read. I highly recommend this book to fans of contemporaries that focus on a character's battle with a serious mental illness.
Reviews to be posted soon:
Snow Like Ashes by Sara Raasch, The 52nd by Dela, Every Breath by Ellie Marney, The Walled City by Ryan Graudin, Afterworlds by Scott Westerfeld, Scratch by Rhonda Helms
(By posting my list here, will I have more motivation to finally get the reviews up? I hope so.)