I'm going big next year! There's a lot I want to accomplish . . . and a lot of challenges to participate in.
The Book Blogger Organization Challenge is running for six months and is focused exactly on what the title says! It's a challenge to get your blog organized! My main goals for this one are to stay up to date with the challenge, find a blog maintenance buddy or two, and post some organizational tips/tricks. I've been meaning to post some of my ideas for quite awhile, so this challenge should give me motivation to finally do it!
Go here to learn more about the challenge and to sign up.
Yay for a discussion challenge! This is going to be very helpful. I really want to post more discussions here, but I haven't gotten into the habit of doing so yet. My goal is to post 25-36 discussions (Chatty Kathy) throughout 2015. I'm hoping to do two each month and some extras during the summer!
Go here to learn more about the challenge and to sign up.
I posted about

Nori @

ReadWriteLove28's 105 Challenge here, but I want to post my list here again! Below are my goals for the number of books I want to read in each category (so one reread, two adult books, etc.).
14. Print books from my TBR shelf
13. E-ARCs from NG & EW
12. Sequels
11. Fantasy books
10. Buddy Reads
9. Books by new to me authors
8. LGBT books
7. 2015 releases
6. Adult books
5. Novellas
4. Print ARCs
3. Classics
2. A reread
1. Book over 600 pages
I picked the following reading challenges because they went with my goals for this challenge and for 2015 as a whole (my goals/resolutions will be posted this week).
The 2015 TBR Pile Reading Challenge is dedicated to getting those books that have been sitting on the shelf for awhile read! Only books that have been published in 2014 or earlier count. Most of the books I've read in 2014 have been review copies (digital, mainly), but I've bought a lot. My print TBR has exploded and I really need to get to reading from it! My goal is 21-30 books (First Kiss).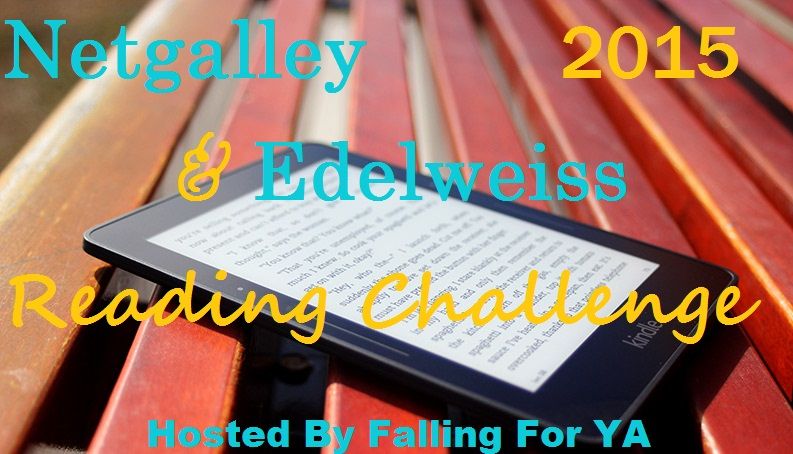 The Netgalley and Edelweiss Reading Challenge (NERC) is all about getting those e-arcs read and reviewed! I'm (still) behind in my review copies, so my main goal for this challenge is to get caught up in reading. My level goal is 50 books (Gold).
The goals of the 2015 Debut Author Challenge (DAC 2015) are to read to "introduce readers to this year's wonderful group of debut authors" and to "challenge readers to read 12 or more middle grade, young adult, and new adult debuts this year." I really like debut authors, so I thought this one would be great to participate in. Reading at least 12 debuts shouldn't be too tough (I have 6 as e-arcs already), so this should be one of the easiest challenges for me.
This challenge was inspired by #WeNeedDiverseBooks and the goal is simple: read diverse books. I don't have any particular number that I'm aiming for. I just want to see how diverse my reading in 2015 gets. It looks like a very laid back challenge.☺
Here are some diverse books I may read in 2015!
This is the perfect challenge for me! I really want to read more fantasy because I've read many fantastic books from the genre, so I'm hoping this challenge motivates me to read more of them.☺ I have 8 fantasies listed as my goal in the 105 challenge, but I want to read at least 15 for this one.
And that's it! I'm participating in a total of eight 2015 challenges: two blogging and six reading ones. My most ambitious ones are the 105 and the blogging challenges, and the most challenging looks like the the TBR Pile Reading Challenge. However, my goals for the rest are pretty relaxed and the challenge can overlap in many ways (for example, None of the Above qualifies as a diverse book, a 2015 debut, an EW book, and a LGBT). I know it looks like a lot at first glace, but I know that if I stay organized, I can handle all the challenges!