Today is the official release day of Dahlia Adler's debut NA, Last Will and Testament! I'm reading this one right now, so I'm going to tell you how it is so far. But first, here's some info on the book: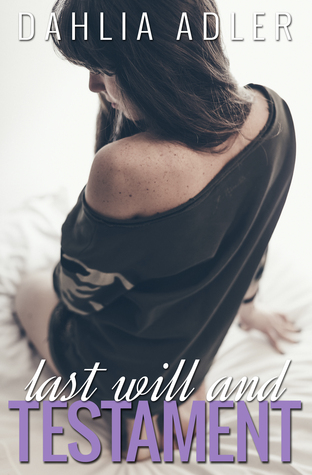 Series:
Radleigh University #1
Genre:
NA contemporary
Publication Date: December 9th, 2014
Publisher: Dahlia Adler (indie)
Lizzie Brandt was valedictorian of her high school class, but at Radleigh University, all she's acing are partying and hooking up with the wrong guys. But all that changes when her parents are killed in a tragic accident, making her guardian to her two younger brothers. To keep them out of foster care, she'll have to fix up her image, her life, and her GPA—fast. Too bad the only person on campus she can go to for help is her humorless, pedantic Byzantine History TA, Connor Lawson, who isn't exactly Lizzie's biggest fan.





But Connor surprises her. Not only is he a great tutor, but he's also a pretty great babysitter. And chauffeur. And listener. And he understands exactly what it's like to be on your own before you're ready. Before long, Lizzie realizes having a responsible-adult type around has its perks... and that she'd like to do some rather irresponsible (but considerably adult) things with him as well. Good thing he's not the kind of guy who'd ever reciprocate.





Until he does.





Until they turn into far more than teacher and student.





Until the relationship that helped put their lives back together threatens everything they both have left.
This is not a review! I'm 45 percent into the book, but I wanted to tell you my thoughts on the book so far.
I started reading this book in the Student Center at my college and it was louder than usual. A group of people that I occasionally hang out with were nearby playing cards (then later, truth or dare). There was also a table set up that student government had set up. It was a pretty loud room--not the best place to read a book. I was also listening to music, but that barely drowned out any of the noise.
Anyway, I was able to get fully into this book! That was the first sign that it was a great one. I usually have trouble getting into a book if I can hear a lot of people talking. With LWAT, though, I was able to ignore them.
This is the kind of NA contemporary that I LOVE. I tend to prefer heavier books with more serious subjects over lighter, clean-ish books. LWAT has cussing, alcohol, sex, cheating, and death. The main character has to deal with the death of her parents and her new position as a guardian while getting her grades up and dealing with her bad reputation. She also has her new struggles with Conner. Her life is a complete and total mess and she has pick up the pieces and make something work. She's growing up!
LWAT is pretty funny, but also pretty serious at the same time. One moment I'll be laughing over a situation the main character is in then think "oh, that's really sad!" I like it.☺
One last thing: I'm loving the romance! Well, for the most part. Conner is a super nice guy. He's pretty awesome. However...he's being too responsible for me at the moment. It is a good thing he's being that way, but still. I want Lizzie and Conner to be an official couple. Soon. Because I really like them together!
This has turned out longer that I expected, which is a really good sign, right? I'm not even halfway through it, but I'm already highly recommending it. It's a great NA!