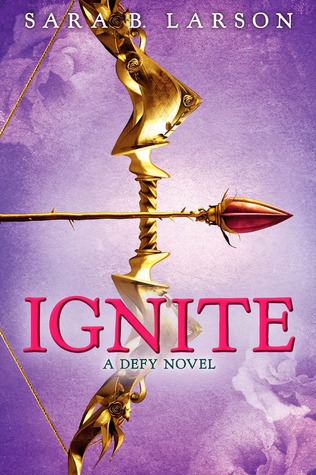 Pages: 304
Publication Date: December 30th, 2014
Publisher: Scholastic Press
Murder, abductions, and forbidden romance abound in this thrilling sequel to Sara B. Larson's acclaimed YA debut, DEFY.





Alexa remains by the newly crowned King Damian's side as his guard, ever committed to helping him rebuild Antion and reclaim the hope of Antion's people, despite continuing to harbor a secret love for him. However, when another threat to Damian and his kingdom emerges, and blame is cast on their newly forged allies from Blevon, Alexa knows things are not what they seem. With the fate of her nation hanging in the balance once again, will Alexa be able to protect her king and uncover the true enemy -- before it's too late?
Source:
I received an ARC of this book in exchange for an honest review.
Ignite
was a really good sequel. It actually seemed better than the book before it, mainly because the plot thickens. Lots of twists were thrown in and cool new magic was introduced. It didn't have as much of a focus on the characters as the first book, but the story was exciting!
I really liked what happened in the book's world. New conflicts developed--interesting and very dangerous conflict. This was my favorite part and the new developments seemed to make this book better than its predecessor. The developments in the plot and the romance seemed to be the main focus of
Ignite
and I definitely didn't mind. It made for an exciting read!
The romance seemed repetitive in the words used to express the feelings the couple felt. Other than that, I liked the two characters together! There's still a hint of the love triangle from
Defy
, but the focus was only on one couple for the most part. Many readers may appreciate that.
There wasn't a big focus on characters (or maybe I just don't have much to say about them), but I'll give you some of my impressions of the main ones. Alexa was smart. She knew how to think things through and how to be rational, even though she didn't always choose to be. This heroine grew some, but still has plenty of room to grow. I liked this character! I also liked Damian, but I don't have much to say about him other than he seemed to be a passionate guy. Rylan was a great friend and supporting character, but I felt sorry for him in this book! Poor guy. . . .
Overall,
Ignite
was well done! It was a great sequel that made me really excited to continue reading the series. If you liked the first book, definitely give this one a shot. If you were a little disappointed in
Defy
, but are intrigued by the idea of a more exciting plot, then I also suggest giving
Ignite
a try!