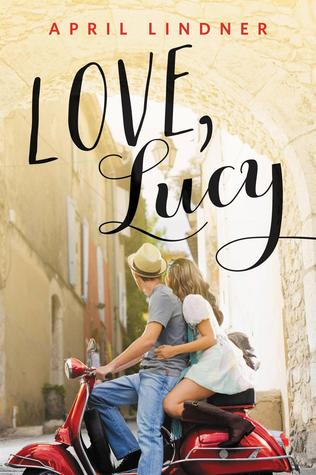 Pages: 304
Publication Date: January 27th, 2015
Publisher: Poppy
While backpacking through Florence, Italy, during the summer before she heads off to college, Lucy Sommersworth finds herself falling in love with the culture, the architecture, the food...and Jesse Palladino, a handsome street musician. After a whirlwind romance, Lucy returns home, determined to move on from her "vacation flirtation." But just because summer is over doesn't mean Lucy and Jesse are over, too.





In this coming-of-age romance, April Lindner perfectly captures the highs and lows of a summer love that might just be meant to last beyond the season.
Source:
I received an ARC of this book from the NOVL newsletter
I was not a fan of
Love, Lucy
. There were many weak parts to it and I ended up getting too annoyed by them to enjoy reading the book.
First of all, the romance. The idea of a whirlwind romance in Italy sounds sweet, but it fell flat for me. I didn't feel the couple's connection. The two fell for each other pretty quickly and their time together was sped through too much for me. I couldn't sense the emotions Lucy was having. This may have had to do with the book being in third person. The emotions weren't pulled off well enough for the perspective in order for them to come off as strong ones.
Lucy's conflict with Charlene also had to do with my lack of connection to the romance. Charlene was constantly negative--she and Lucy her always fighting--and it was really annoying. This made it tougher for the romance to actually feel romantic.
I started liking the book a little bit more when Lucy started going to college in the U.S. (mostly because Charlene wasn't there to spoil the mood). A love triangle started up, and while I usually don't mind those, this one only made me dislike the book even more than I already did. The second guy acted so . . . skeezy. He seemed to be made out to be a great, nice guy, but I got a bad vibe from him. He also seemed like a flat character.
Lucy herself was my biggest problem with the book. She couldn't make her own decisions or stick with
anything
(for the most part). Her feelings for Jesse went back-and-forth. She constantly made assumptions about his feelings for her. She became defensive often, but I wasn't sympathetic because she didn't seem to have a right to act that way. The worst part is that her character growth was minuscule. She did grow--an event or two in the end proved that--but she didn't exhibit that growth in her actions or attitude enough for me to be sympathetic towards her or even like her character.
Overall,
Love, Lucy
was a letdown. It looks like a fun, romantic read, but it turned out to be a rant-inducing one for me. There were too many weaknesses in this one for me to recommend it.