A Thousand Pieces of You by Claudia Gray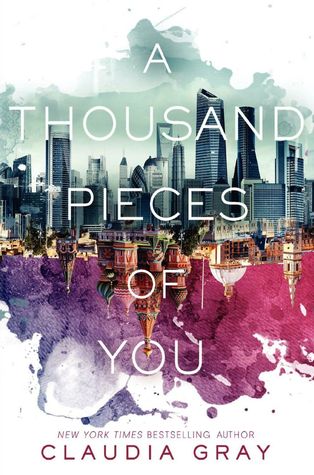 Series: Firebird #1
Genre: YA science fiction/fantasy
Pages: 368
Publication date: November 4th, 2014
Publisher: HarperTeen
Every Day meets Cloud Atlas in this heart-racing, space- and time-bending, epic new trilogy from New York Times bestselling author Claudia Gray.





Marguerite Caine's physicist parents are known for their radical scientific achievements. Their most astonishing invention: the Firebird, which allows users to jump into parallel universes, some vastly altered from our own. But when Marguerite's father is murdered, the killer—her parent's handsome and enigmatic assistant Paul—escapes into another dimension before the law can touch him.





Marguerite can't let the man who destroyed her family go free, and she races after Paul through different universes, where their lives entangle in increasingly familiar ways. With each encounter she begins to question Paul's guilt—and her own heart. Soon she discovers the truth behind her father's death is more sinister than she ever could have imagined.





A Thousand Pieces of You explores a reality where we witness the countless other lives we might lead in an amazingly intricate multiverse, and ask whether, amid infinite possibilities, one love can endure.
Source:
I received an e-arc of this book in exchange for an honest review.
Dear
A Thousand Pieces of You
,
It's not you. It's me. I read 32 percent o you, but I just couldn't become invested in your plot of the developing romance. It's not that you're a bad book--I actually liked the writing--but there wasn't anything that grabbed me and made me want to continue reading you. I'm going to move on and read books that are more or me. I'm sure a lot of readers will love you (and maybe we'll meet again and I'll love you then), but this is goodbye for now.
Sincerely,
Kaitlin
Come to Texas by K.K. Hendin
Publication Date: August 17th, 2014
Everyone thought we'd be the ones who made it through high school. The ones who'd get married and stay married forever. The example of how young love can work.

We thought so, too.

Too bad life had other plans.

It's been three years since Hayley and Nate broke each other's hearts. Three years, and a lot has changed. Hayley's a freshman in Bushwick University, and the only things keeping her sane are stress baking, and her a cappella group, Twelve Beats in a Bar.

Nate's a Marine, stationed in Afghanistan. The only thing that's keeping him sane is the last picture he has of him and Hayley, and the hope that maybe when the hell of deployment is over, he can find her again and apologize.

One explosion will change everything.

When a bomb kills all of Nate's unit, leaving him missing a leg and eyesight in one eye, he's sent back home to Texas. Texas, where he loved Hayley more than he could possibly imagine ever loving anyone else.

With seemingly endless amounts of free time and needing something to distract himself, Nate starts making YouTube videos, imploring Hayley to come back to him, and come back to Texas.

Hayley's life is wrapped around the Beats, making sure she doesn't flunk out of biology class, and babysitting Ohio's smallest monster, Brandon. She doesn't want to admit it, but she misses Nate more than anything.

It's too bad she doesn't know just how much he misses her, too…
I DNFed
Come Back to Texas
because I wasn't enjoying reading it. There was something about it that annoyed me. I wasn't a fan of the dialogue and the story wasn't very interesting to me, so maybe that was it. Maybe I just wasn't in the mood to read a contemporary like this one. I just . . . didn't like what I read very much. This book wasn't for me.
Publication Date: December 2nd, 2014
From the internationally bestselling author of Beautiful Malice comes a captivating novel of psychological suspense about love and friendship, loyalty and betrayal—perfect for readers of S. J. Watson and Lisa Unger.




Tim Ellison feels lucky when he finds a cheap place to rent in his dream location, close to the restaurant where he works as a chef, and even closer to his favorite surf spot at Sydney's popular Manly Beach. But the cavernous house is infused with a sense of foreboding, and his furnished room there comes with a condition: he must look after the mansion's mysterious owner.




Anna London is withdrawn and frail, a twenty-year-old with the inexplicable demeanor and habits of an elderly woman. From her grand home on the hill, she can see the city and the ocean, but she can never leave. Her anxieties keep her locked inside, unable to handle the outside world.




As Tim settles in, he struggles to get to know the person who depends on him for food and care. Slowly, Anna reveals glimpses of herself—her history, her sadness, her crippling fears. And then strange things begin to happen: loud banging in the night, unexplained figures in the shadows, sinister messages on the walls. Tim is startled to find that even as his unease about the house grows, he is increasingly attracted to its hauntingly beautiful owner. But is Anna London someone to pity . . . someone to love . . . or someone to fear?




Taut and intense, Sweet Damage is an addictive novel about vulnerability, obsession, and duplicity, with a modern Gothic twist.
Source:
I received an e-arc of this book in exchange for an honest review.
Sweet Damage
was a dark thriller built upon lies and malice. I didn't become nearly as invested in this story as I did in
Beautiful Malice
, but I was reminded what a great author Rebecca James is!
The author is so good at creating messed up, complex, and surprising characters. The thrill of the book came from these characters and their secrets and ulterior motives--it got intense when it all came crashing down. Don't expect a lot of action. It was the characters that made the book a great thrilling one. They seemed well developed, but not too easy to figure out.
I loved the dark, gritty feel to the book. The subject matter was on that I generally like reading about and I appreciated ow the author handled it!
Overall,
Sweet Damage
was a great novel. The web of deceit and secrets was definitely interesting! If you're up for a great character-driven thriller, this may be the one for you.
Top Ten Clues You're Clueless by Liz Czukas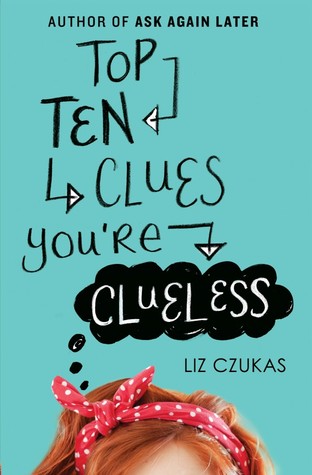 Publication date: December 9th, 2014
Top Five Things That Are Ruining Chloe's Day




5) Working the 6:30 a.m. shift at GoodFoods Market




4) Crashing a cart into a customer's car right in front of her snarky coworker Sammi




3) Trying to rock the "drowned rat" look after being caught in a snowstorm




2) Making zero progress with her crush, Tyson (see #3)




1) Being accused—along with her fellow teenage employees—of stealing upwards of $10,000




Chloe would rather be anywhere than locked in work jail (aka the break room) with five of her coworkers . . . even if one of them is Tyson. But if they can band together to clear their names, what looks like a total disaster might just make Chloe's list of Top Ten Best Moments.
Source: I received an e-arc of this book in exchange for an honest review.
This book was a lot of fun! There was a great, diverse cast of characters. I really liked getting to know each of them. I also loved the lists. They were a nice addition to the story. The story was nice and sweet. I liked reading it, but . . . I don't have much to say about it. If you're looking for a fun, quick, and light read, this is the book for you!