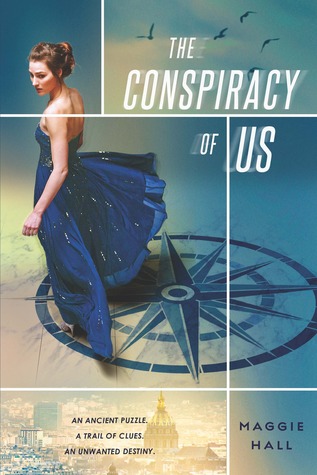 Genre:
YA mystery thriller
Pages: 336
Publication date: January 13th, 2015
Publisher: Putnam Juvenile
A fast-paced international escapade, laced with adrenaline, glamour, and romance--perfect for fans of Ally Carter





Avery West's newfound family can shut down Prada when they want to shop in peace, and can just as easily order a bombing when they want to start a war. Part of a powerful and dangerous secret society called the Circle, they believe Avery is the key to an ancient prophecy. Some want to use her as a pawn. Some want her dead.





To unravel the mystery putting her life in danger, Avery must follow a trail of clues from the monuments of Paris to the back alleys of Istanbul with two boys who work for the Circle—beautiful, volatile Stellan and mysterious, magnetic Jack. But as the clues expose a stunning conspiracy that might plunge the world into World War 3, she discovers that both boys are hiding secrets of their own. Now she will have to choose not only between freedom and family--but between the boy who might help her save the world, and the one she's falling in love with.
Source: I received a copy of this book in exchange for an honest review.
The Conspiracy of Us
was fun thrill ride with intriguing mystery, amazing romance, and great settings. I may have flailed a bit while reading . . . just a little. It was that good!
The romance was my favorite part. This author knows how to write
really
romantic scenes. Jack and Avery were a shipable couple. So. Darn. Shipable! There was tons of chemistry between them. Jack was a guy that requires all caps. JACK. His words were wonderful.
As for the love triangle . . . I guess it's there. I do see the potential for it, but I loved Jack so much that I didn't see Avery having much of a connection with another guy. Stellan
was
great, though (and I'll probably still like it if something happens between him and Avery). I like guys that have tough exteriors, but reveal a soft side as you get to know them. He was like that. I'm eager to get to know him more.
The circle and the conspiracy and everything related did get confusing at times, but it was really interesting. It made the book mysterious and exciting. I'm curious about what's inside the tomb. The story does require quite a bit of suspension of belief, but a lot of mysteries and thrillers like The Conspiracy of Us require that, don't they?
I was pleased to see some character growth! Avery overcame some of her fears. She started letting people in and grew close to Jack. She was a pretty good heroine.
I really liked Luc. He fits that great friend role and I hope to see more of him! I didn't get enough of him in this book.
The ending . . . ha! Hahahah. I loved it. That's all I'll say.
Overall,
The Conspiracy of Us
was so good!! I'm happy to say that it met my high expectations. It was romantic and intriguing and so darn exciting! The wait for the sequel isn't going to be a pleasant one.
2015 challenges this book counts towards:
105 Challenge
2015 Debut Author Challenge