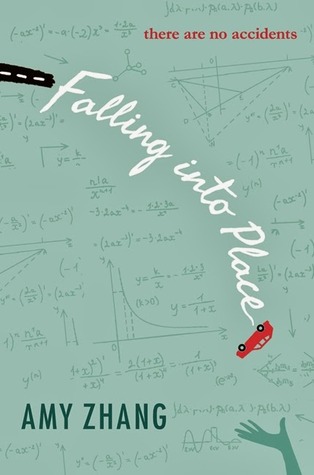 Genre:
YA contemporary
Pages: 304
Publication date: September 9th, 2014
Publisher:
Greenwillow Books
On the day Liz Emerson tries to die, they had reviewed Newton's laws of motion in physics class. Then, after school, she put them into practice by running her Mercedes off the road.




Why? Why did Liz Emerson decide that the world would be better off without her? Why did she give up? Vividly told by an unexpected and surprising narrator, this heartbreaking and nonlinear novel pieces together the short and devastating life of Meridian High's most popular junior girl. Mass, acceleration, momentum, force—Liz didn't understand it in physics, and even as her Mercedes hurtles toward the tree, she doesn't understand it now. How do we impact one another? How do our actions reverberate? What does it mean to be a friend? To love someone? To be a daughter? Or a mother? Is life truly more than cause and effect? Amy Zhang's haunting and universal story will appeal to fans of Lauren Oliver, Gayle Forman, and Jay Asher.
Source:
I received an e-arc of this bo
ok in exchange for an honest review.
I put off reading
Falling into Place
because I knew it would make me an emotional wreck. And guess what happened when I finally read it? It made me even
more
of an emotional wreck than I thought it would! This book broke my heart--many times. Each character had his/her own story. Liz Emerson (especially her), Monica, Julia, Liam, Kennie: each took turns stomping on my heart. This book hurt!
The narrator also made me really sad. The narration was a very important part of the book, and who it turned out to be probably broke my heart the most.
The writing was wonderful. Most of the book was in third person (well, in first person, but since "I" wasn't used as often, it felt like it was told in third person) made each and every part of the book more real and emotional than if the POV was all told from first person. The characters, the emotions, the memories, the stories: everything felt well developed, which in turn helped make the story as emotional as it was. I felt for every character as each went experienced pain and sadness. I cried for all of them.
Overall,
Falling into Place
was a
fantastic
debut. Any author that can make a reader become as immersed in a story, as connected to the characters, as teary-eyed by mere
sentences
, is definitely a talented one. I absolutely loved this book and I cannot wait to read Amy Zhang's next one!
If you loved
Thirteen Reasons Why
by Jay Asher, I highly recommend this one to you!
2015 challenges this book counts towards:
Netgalley & Edelweiss Reading Challenge
105 Challenge