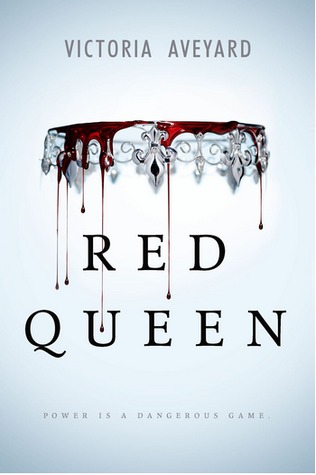 Series: Red Queen Trilogy #1
Genre: YA fantasy
Pages: 400
Publication Date: February 10th, 2015
Publisher: HarperTeen
Graceling meets The Selection in debut novelist Victoria Aveyard's sweeping tale of seventeen-year-old Mare, a common girl whose once-latent magical power draws her into the dangerous intrigue of the king's palace. Will her power save her or condemn her?





Mare Barrow's world is divided by blood--those with common, Red blood serve the Silver- blooded elite, who are gifted with superhuman abilities. Mare is a Red, scraping by as a thief in a poor, rural village, until a twist of fate throws her in front of the Silver court. Before the king, princes, and all the nobles, she discovers she has an ability of her own.





To cover up this impossibility, the king forces her to play the role of a lost Silver princess and betroths her to one of his own sons. As Mare is drawn further into the Silver world, she risks everything and uses her new position to help the Scarlet Guard--a growing Red rebellion--even as her heart tugs her in an impossible direction. One wrong move can lead to her death, but in the dangerous game she plays, the only certainty is betrayal.
Source:
I received an e-arc of this book in exchange for an honest review.
Red Queen
was super exciting! I believe my heart was literally pounding as I was reading the last 15 percent because the twists and action were just
that intense
. This book made me want to scream at some characters and weep for others. Some twists made my jaw drop and my eyes widen. Tears pricked my eyes in sadness and in happiness (at different times). I finished this book feeling the need to flail with other readers--and
that
is definitely a sign that a book is an awesome one.
I'm not going to go into much detail because the book description is pretty vague and I don't want to spoil anything or even hint at spoilers. Plus, this book is a good one to go into blind.
The Red vs. Silver battle was a great one! The Reds were the seemingly powerless group while the Silvers had riches, healers, royalty, epic abilities, and so much more. There was a huge gap between the groups. It was an interesting and exciting conflict and I'm excited to find out what happens next with it.
I really liked the romance! There wasn't much of it, so it wan't a large focus in this book. I have to give a warning, though: there
is
a love triangle. I kept switching who I was rooting for, but I definitely have one I'm hoping Mare ends up with.
One of my favorite parts about the book was the blend of fantasy and dystopia elements. There were abilities (like magic), royalty, and war that gives
Red Queen
a fantasy feel. Then there was the side that was more like a dystopia: electricity, hints of past society, guns, rebellion. The two sides worked really well together. The author created a cool and interesting world to set her story in.
The shocking twists towards the end were my favorite thing about the entire book. They were unexpected and exciting. They were what made me
love
the book. I was really interested before then, but not completely
hooked
. The twists changed that!
Overall,
Red Queen
impressed me with its epic world and conflict and its jaw-dropping twists and turns. You should definitely be excited to read this one!