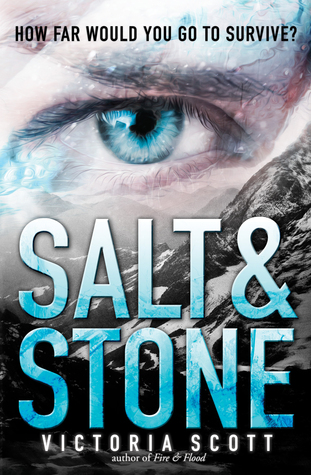 Genre: YA science fiction
Pages: 320
Publication Date: February 24th, 2014
Publisher: Scholastic Press
What would you do to save someone you love?





In

Fire & Flood

, Tella Holloway faced a dangerous trek through the jungle and across the desert, all to remain a Contender in the Brimstone Bleed for a chance at obtaining the Cure for her brother. She can't quit--she has to win the race, save Cody, and then fight to make sure the race stops before it can claim any more lives. In the next legs of the race, across the ocean and over mountains, Tella will face frostbite, sharks, avalanche, and twisted new rules in the race.





But what if the danger is deeper than that? How do you know who to trust when everyone's keeping secrets? What do you do when the person you'd relied on most suddenly isn't there for support? How do you weigh one life against another?





The race is coming to an end, and Tella is running out of time, resources, and strength. At the start of the race there were one hundred twenty-two Contenders. As Tella and her remaining friends start the final part of the race, just forty-one are left--and only one can win.
Source:
I received an ARC from Andye @ Reading Teen in exchange for an honest review.
Salt & Stone
is definitely a book you should be excited about! It was a solid sequel. The race continued to be intense and exciting and the Pandoras continued to be awesome. My favorite part was the character growth and twists.
Tella became a leader in this book. She started making her own decisions more and taking control of the situations she and others were in. She became a much stronger person and stopped relying on the other characters so much (Guy, specifically). I loved how much she grew! I loved her big heart. She loved people and Pandoras, and the race never changed. It affected other Contenders negatively, but not her.
I loved Guy's growth, too. He acted like such a tough guy and struggled so much with opening up and sharing his feelings. It took awhile, but he did start revealing his softer, more sensitive side. I loved that side of him! He showed what a sweetie he really was.
I love the Pandoras! They're loyal and protective. They exhibited their strength so much throughout the book. I'm so glad the characters have them for support.
There were many great moments in this book. Some happier scenes made me smile and some other parts made me laugh out loud. There were some adorable, tender moments as well. There were also plenty of exciting scenes. Victoria Scott throws some
mean
twists into the race. I never saw them coming! They made the book an intense read.
Overall, I was very happy with
Salt & Stone
! It was a great continuation of an exciting series. If you enjoyed reading
Fire & Flood
, you should definitely be looking forward to reading its sequel!