Note: The Virtual Arcana series starts with #0 instead of #1. Each installment is a novella length episode.
The Fool (Virtual Arcana #0) by Karen Amanda Hooper
Genre: YA dystopia
Pages: 59
Publication Date: November 8th, 2014
Publisher: Starry Sky Publishing
The Matrix meets The Notebook, with a sprinkle of The Giver.





In a faraway future, Kelsey Zellar is starting her senior year at yet another school thanks to her twin sister's troublesome obsession with outlawed virtual reality games.





Every school they've ever attended is pretty much the same: lunchroom drama, rich kids binging on enhancement candies, and classmates rallying for or against the government's strict control over everything from entertainment privileges to caffeine consumption.





Unlike her sister, Kelsey follows the rules and keeps her nose out of trouble and politics while sniffing out her next flavored latte and favorite novel. But when Kelsey meets a charming book connoisseur, and accepts his offering of a tarot card, she takes the first step toward two new addictions: the guy of her dreams, and his illegal dealing of virtual escapes into her beloved storybooks.





Kelsey straddles the worlds of fiction and reality, but is she a fool for believing in her own happy ending?





**This series will be serial style with short episodes(15-20k) releasing frequently.





The Fool is approximately 16k words.
Source:
Won in giveaway
I liked this introduction to the series! The futuristic world intrigued me and I'm looking forward to discovering more about it. I liked the characters so far. Kelsey was a bookworm! I really like it when main characters love to read. I also liked her narration. I was a little wary of Xander, but I kinda liked his big personality. Kelsey's sister seemed like a good characters. I liked her presence because it gives the a sister relationship focus to the series.
The Arcana sounds interesting. It was described as a source of magic, but not much else was explained. I'm very curious now. . . .
Overall,
The Fool
was a nice, quick read! I enjoyed reading it.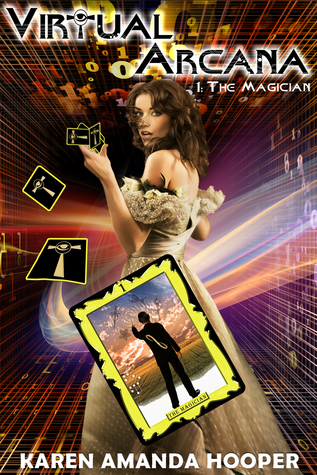 Genre: YA dystopia
Pages: 60
Publication Date: November 15th, 2014
Publisher: Starry Sky Publishing
Mysterious cards keep appearing in Kelsey's life, stirring up questions and forcing her to keep secrets from her sister, Keekee.





Triggered by Kelsey's fear and Keekee's worry, the twins become bright blips on their tyrannical government's radar.





Xander's magic seems to be their only chance at escaping a dangerous confrontation, but is Kelsey willing to break multiple laws and finally step into Xander's illegal world of virtual reality?
Source:
I received an e-arc of this book in exchange for an honest review.
I'm really enjoying this series! This installment gave some more information on the government and how restrictive it is. The characters had to wear bands that tracked things like heart rate and caffeine consumption. If there was a suspicious spike (such as getting really scared by something), the person was called in and questioned. Also, the government is manipulative! They found a way to use the sisters and to pretty much force them to do what the government wants. I can understand why the girls want to get out of the country so badly!
I really like the concept of VR. The characters can be transported into realities. If the access card is good enough, they can be transported into the reality of a book. They can go into a
book world
. How cool is that? (I wonder if Kelsey will ever go to Hogwarts?)
There's still some mystery surrounding the Arcana, but I think it'll be explained more in the next episode. I'm looking forward to it!
Overall,
The Magician
is great to read if you want something quick to read. It's an enjoyable story with really cool concepts and an interesting world.