I love books with romance in them, but it seems that I haven't come across that many amazing ones lately. So, I decided to make a TBR Jar just for those books that may have great romance in them and to read at least one book from it each month. I wanted to make the choice more fun, so I'm going to let you vote for what I should read! (Plus, I'm hoping this gives me more motivation to actually get to the book instead of just reading e-arc after e-arc like I usually do.)
The winner of the first January poll is . . .
These Broken Stars by Amie Kaufman and Meagan Spooner!
I actually read this over the weekend . . . so good! I couldn't wait. :D My review of sorts will be up soon (hopefully).
I'm having a second poll because, well, why not? Next month is February and I need a book to read on Valentine's Day!
Here are the choices for this month's poll:
Gabriel Merrick plays with fire. Literally. Sometimes he can even control it. And sometimes he can't. Gabriel has always had his brothers to rely on, especially his twin, Nick. But when an arsonist starts wreaking havoc on their town, all the signs point to Gabriel. Only he's not doing it. And no one seems to believe him. Except a shy sophomore named Layne, a brainiac who dresses in turtlenecks and jeans and keeps him totally off balance. Because Layne has a few secrets of her own...
I LOVED Storm!
Something Real by Heather Demetrios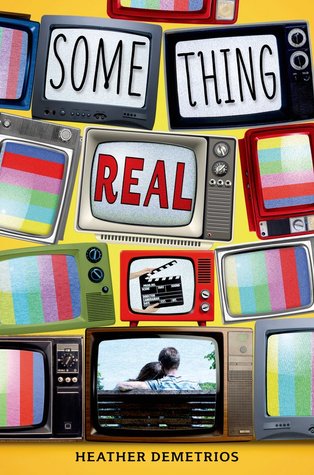 Seventeen-year-old Bonnie™ Baker has grown up on TV—she and her twelve siblings are the stars of one-time hit reality show Baker's Dozen. Since the show's cancellation, Bonnie™ has tried to live a normal life, under the radar and out of the spotlight. But it's about to fall apart . . . because Baker's Dozen is going back on the air. Bonnie™'s mom and the show's producers won't let her quit and soon the life that she has so carefully built for herself, with real friends (and maybe even a real boyfriend), is in danger of being destroyed by the show. Bonnie™ needs to do something drastic if her life is ever going to be her own—even if it means being more exposed than ever before.
If this one wins, that means I should be reading three Heather Demetrios' books within a month! (I'm starting I'll Meet You There and will hopefully read Exquisite Captive soon.)
Losing Hope by Colleen Hoover
In the follow-up to Colleen Hoover's #1 New York Times bestseller Hopeless, the charming and irresistible Dean Holder tells the passionate story that has melted thousands of hearts.



In Hopeless, Sky left no secret unearthed, no feeling unshared, and no memory forgotten, but Holder's past remained a mystery.





Still haunted by the little girl he let walk away, Holder has spent his entire life searching for her in an attempt to finally rid himself of the crushing guilt he has felt for years. But he could not have anticipated that the moment they reconnect, even greater remorse would overwhelm him…



Sometimes in life, if we wish to move forward, we must first dig deep into our past and make amends. In Losing Hope, bestselling author Colleen Hoover reveals what was going on inside Holder's head during all those hopeless moments—and whether he can gain the peace he desperately needs.
Dean Holder <3 He's one of my favorite contemporary book boyfriends!
All of You by Christina Lee
Avery has just met her hot upstairs neighbor. He's irresistible. Tattooed. And a virgin.




Nursing student Avery Michaels wants nothing to do with dating—she's perfectly happy single. Privy to too many of her mother's bad decisions and even worse taste in boyfriends, all Avery can handle is a string of uncomplicated hookups whenever the mood strikes.




When she meets smoking hot tattoo artist Bennett, she wants him—for just one night. But he won't accept a no-strings-attached arrangement. He lives by a straight-laced code of values based on his own troubled upbringing.




Bennett sees something special in Avery and he wants more from her. Way more. As Avery wrestles with her emotions for Bennett, danger and tragedy force them to open up to each other. And Avery must face the terrifying realization that she wants more from him, too.




So she needs to make a choice—let Bennett go or finally let him

in

.
This was actually on a past poll, but since it didn't win, its slip went back into the jar.
Time to vote! This one will be open for the rest of the month.