Welcome to today's stop on the blog tour for The Conspiracy of Us! I'm really excited to share my interview with Maggie Hall with you all. I'll be reading this one real soon, so hopefully I'll have a review to share with you soon too.
This is my first ever blog tour I've been invited to for a major publisher, so post is one of my blogger milestone!
Thank you to Penguin for allowing me to be a part of this!
Enjoy the post.☺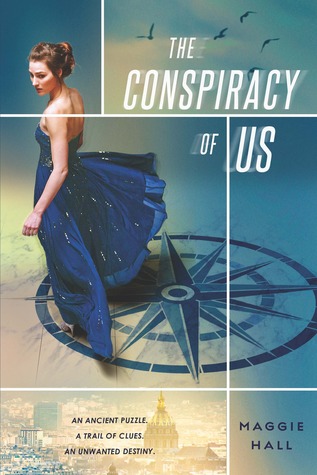 Genre:
YA thriller
Pages: 336
Publication date: January 13th, 2015
Publisher:
Putnam Juvenile
A fast-paced international escapade, laced with adrenaline, glamour, and romance--perfect for fans of Ally Carter





Avery West's newfound family can shut down Prada when they want to shop in peace, and can just as easily order a bombing when they want to start a war. Part of a powerful and dangerous secret society called the Circle, they believe Avery is the key to an ancient prophecy. Some want to use her as a pawn. Some want her dead.





To unravel the mystery putting her life in danger, Avery must follow a trail of clues from the monuments of Paris to the back alleys of Istanbul with two boys who work for the Circle—beautiful, volatile Stellan and mysterious, magnetic Jack. But as the clues expose a stunning conspiracy that might plunge the world into World War 3, she discovers that both boys are hiding secrets of their own. Now she will have to choose not only between freedom and family--but between the boy who might help her save the world, and the one she's falling in love with.
Want to buy the book? Here are some purchase links:
Maggie Hall is a traveling, decorating, champagne-drinking, USC-football-watching YA author. She is currently traveling the world for an indefinite amount of time with her husband, which means right at this moment, she might be on a beach in Thailand, drinking wine in Paris, or anywhere in between.
Her debut novel, a YA international thriller, is coming from Putnam/Penguin in 2015.
She is represented by Claudia Ballard at William Morris Endeavor.
What is one of your favorite quotes from your book?
I love this one:
They said intense situations could bring people closer than knowing each other for years. I suddenly understood what that meant.
How much research have you had to do for your series?
Quite a bit. The Circle of Twelve, the secret society in the book, is vaguely based in real conspiracy theories, so I read a lot about those. I learned a lot about various violent things that happen in the book (which has probably landed me on the FBI watch list), and especially, I did a lot of research on the settings. And by "research" I mean travel! I am lucky to have traveled a good deal, and my travel experiences absolutely shaped the book. (As I'll talk about more below…) And, of course, I spent the entirety of my high school years doing very important "research" on kissing boys. I think at the time I must have known it'd be useful someday… ;)
Tell me a little about the guys of the book! What kind of personalities do Stellan and Jack have? What are their similarities and differences?
On the surface, Jack and Stellan could be seen as very similar. They both work for the Circle, in the same position as Keeper. They're both very competent, well-trained, and dangerous. But they approach it much differently. Jack is very loyal, and very serious about his job. In the book, he's torn between what he's always thought was right and what he's beginning to learn about his world. Stellan, on the other hand, is more of a mystery. He's more independent, and it shows in how he approaches the world of the Circle. Still, though, he knows very well that the Circle doesn't forgive easily, so he's more careful than he might want to be. Plus, Stellan will never miss the opportunity to say something sarcastic or inappropriate, while Jack is much more polite.
How has your travel experiences affected the settings and events of The Conspiracy of Us?
A lot! I've been to all the settings in the book, and visiting a place and learning the sights, the smells, the layout of the streets—it absolutely makes it so you can write a more vivid scenes. In the book, this is the first time Avery has been out of the country, and it was important to me to make the reader feel like they were seeing these cities through her eyes. From how the sun looks on the Seine in the morning to the grandiosity of the Hagia Sophia, I feel like I was able to write much more convincingly for having visited these sites.
What has been the thing you've been the most nervous about when it comes to the release of your debut?
At first, I was so nervous that no one would like the book! I know not everyone will, of course, but I want more than anything for there to be readers who really connect with Avery and Jack and Stellan and care about what happens to them going forward. I want readers to end the book wanting to travel themselves. And I want them to have fun! I am so, so happy so far to have had some readers love CONSPIRACY as much as I'd hoped, and I am nervous-but-very-excited to have more people read.
What is your favorite thing about being about being an author?
Piggybacking on the previous answer, my favorite thing so far has been people loving the book. I don't think I will ever get tired of hearing a reader say they're dying for the sequel, or that it kept them up all night reading! I just love so much that something I write—and my characters—can connect with readers. It's exactly what I'd hoped for from being an author.
Thank you for answering my questions!☺
Check out the other spots on the tour!
Two Chicks on Books – 1/14