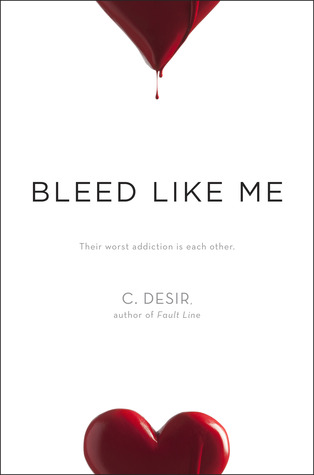 Genre:
YA contemporary
Pages: 288
Publication date: October 7th, 2014
Publisher: Simon Pulse
From the author of

Fault Line

comes an edgy and heartbreaking novel about two self-destructive teens in a Sid and Nancy-like romance full of passion, chaos, and dyed hair.





Seventeen-year-old Amelia Gannon (just "Gannon" to her friends) is invisible to almost everyone in her life. To her parents, to her teachers-even her best friend, who is more interested in bumming cigarettes than bonding. Some days the only way Gannon knows she is real is by carving bloody lines into the flesh of her stomach.





Then she meets Michael Brooks, and for the first time, she feels like she is being seen to the core of her being. Obnoxious, controlling, damaged, and addictive, he inserts himself into her life until all her scars are exposed. Each moment together is a passionate, painful relief.





But as the relationship deepens, Gannon starts to feel as if she's standing at the foot of a dam about to burst. She's given up everything and everyone in her life for him, but somehow nothing is enough for Brooks-until he poses the ultimate test.



Bleed Like Me

is a piercing, intimate portrayal of the danger of a love so obsessive it becomes its own biggest threat.
Source: I received an e-arc of this book in exchange for an honest review.
I DNFed
Bleed Like Me
at 41 percent because I grew tired of reading the book. It had a great idea, but was poorly executed.
First of all, I want to say that my issue was with the writing, development, and events. I didn't have n issue with the
nature
of the book. The toxic relationship, obsession, cutting, cussing, family: none of that made me dislike the book.
The characters were flat. I couldn't connect to the protagonist, which made it tough to connect to the rest of the story. Amelia didn't seem to have emotions. It was like she was on cruise control, and I couldn't get anything from her. As for Michael, he didn't seem real. He was also constantly
there
. Scenes without him in them felt sped through and the ones with him in them felt a little weird and repetitive.
The repetition was annoying. There seemed to be very little variety in the events. There was the same type of actions and dialogue repeated over and over. If Michael didn't have such a constant presence or if he was less predictable, I don't think the book would've felt so repetitive as it did.
Overall, the two-fifths that I read of this book did NOT work for me, which is a shame because I thought I would love it. It seemed like the type that I usually do like reading, but there were too many things about it that fell short for me in order to want to finish it.