Hi everyone! Welcome to the fifth day of the tour. Miss the authors from yesterday? Go here for Sara Hantz and Ashley Poston's answers to my questions.
Each day this week, I'll be featuring two authors (four on Saturday) and their answers to two romance/Valentine's Day related questions I came up with. There's also a great giveaway that you're going to want to enter.
Go to the main tour page to check out posts on the other participating blogs.☺
DAWN IUS is a short-story author, novelist, screenwriter, professional editor, and communications specialist. She is the Assistant Managing Editor of the International Thriller Writers Association's monthly magazine, THE BIG THRILL, co-founder and senior editor of Vine Leaves Literary Journal, and the author of ten educational graphic novels published by the Alberta Canola Producers Commission. When she's not slaying fictional monsters, she's geeking out over fairy tales, Jack Bauer, Halloween, sports cars, and all things that go bump in the night. Dawn lives in Alberta, Canada, with her husband, Jeff, and their giant English Mastiff, Roarke.
Connect with Dawn:
Describe the perfect Valentine's Day date for a couple in your latest or upcoming release.
Abandoned theatre + trunk full of costumes & props + Anne's motorcycle, Clarice = a perfect date for Anne & Henry.
2. What is your favorite part about writing romance in books?
If done well, that swoony feeling in your tummy — like falling in love for the first time. Plus, kissing.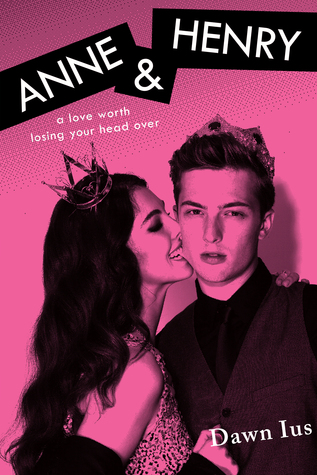 ANNE





Wild, brazen, mischievous, bewitching





HENRY





Driven, haunted, charming, magnetic





ANNE & HENRY





Apart they are bound to destroy themselves. Together, they are bound to destroy each other.





HENRY TUDOR'S LIFE HAS BEEN mapped out since the day he was born: student president, valedictorian, Harvard Law School, and a stunning political career just like his father's.





But ever since the death of Henry's brother—perfect, high-achieving Arthur—his family has been twice as demanding. And now Henry's trapped: forbidden from pursuing a life as an artist or dating any girl who's not Tudor-approved.





Then Anne Boleyn crashes into his life.





Anne is wild, brash, and outspoken. She is everything Henry is not allowed to be—or to want. But soon Anne is all he can think about. His mother, his friends, and even his girlfriend warn him away, yet his desire for Anne consumes him. Henry is willing to do anything to be with her. But once he has her, their romance could destroy them both.





Inspired by the true story of Anne Boleyn and King Henry VIII, ANNE & HENRY reimagines the intensity, love, and betrayal between one of the most infamous couples of all time.
Brenda Hiatt is the New York Times bestselling author of twenty novels (so far), including traditional Regency romance, time travel romance, historical romance, and humorous mystery. She is as excited about her STARSTRUCK series as she's ever been about any of her books. In addition to writing, Brenda is passionate about embracing life to the fullest, to include scuba diving (she has over 60 dives to her credit), Taekwondo (where she is currently pursuing her 3rd degree black belt), hiking, traveling, and pursuing new experiences and skills.
Describe the perfect Valentine's Day date for a couple in your latest or upcoming release.
Rigel and M would have a lovely picnic in their secret cornfield clearing…with lots of smoochies. :)
What is your favorite part about writing romance in books?
Anticipating, then living through every happy-ever-after as I write it (and again&again as I revise!)
The electrifying conclusion to the Starstruck series!



M, no longer a nerdy nobody, has finally been acclaimed Sovereign Emileia, ruler of the Martian colony Nuath. But at what cost? Without her soulmate Rigel, life seems pointless but she's expected to shake off her heartbreak and assume her responsibilities. Reluctantly, M does what she must until an unexpected discovery restores a glimmer of hope for the future. Now she is determined to do whatever she can to salvage her longed-for happy ending—if it's not already too late.
a Rafflecopter giveaway