How We Fall by Kate Brauning
Series: standalone
Genre: YA contemporary
Pages: 304
Publication Date: November 3rd, 2014
Publisher: Merit Press
Ever since Jackie moved to her uncle's sleepy farming town, she's been flirting way too much--and with her own cousin, Marcus.





Her friendship with him has turned into something she can't control, and he's the reason Jackie lost track of her best friend, Ellie, who left for...no one knows where. Now Ellie has been missing for months, and the police, fearing the worst, are searching for her body. Swamped with guilt and the knowledge that acting on her love for Marcus would tear their families apart, Jackie pushes her cousin away. The plan is to fall out of love, and, just as she hoped he would, Marcus falls for the new girl in town. But something isn't right about this stranger, and Jackie's suspicions about the new girl's secrets only drive the wedge deeper between Jackie and Marcus--and deepens Jackie's despair.





Then Marcus is forced to pay the price for someone else's lies as the mystery around Ellie's disappearance starts to become horribly clear. Jackie has to face terrible choices. Can she leave her first love behind, and can she go on living with the fact that she failed her best friend?
Source:
I received an e-arc of this book in exchange for an honest review.
How We Fall and I were like vinegar and water; we just did not mix. I read 23 percent of it before deciding to DNF. I was annoyed by how repetitive the character's thoughts and actions seemed. I was also a bit bored. There was a large focus on the romance, and while I usually love a lot of romance, there wasn't enough variety for me to like this one. After getting a dose of how this story was running, I just didn't want to continue reading it. There have been a lot of great reviews for this one, but it sadly wasn't for me.
Tear You Apart by Sarah Cross
Genre: YA fantasy
Pages: 384
Publication Date: January 27th, 2015
Publisher: Egmont
An edgy fairy tale retelling of "Snow White" set in the world of Kill Me Softly for fans of Once Upon a Time and Grimm.



Faced with a possible loophole to her "Snow White" curse, Viv goes underground, literally, to find the prince who's fated to rescue her. But is life safe in the Underworld worth the price of sacrficing the love that might kill her?





POP CULTURE CAN'T GET ENOUGH OF TWISTING FAIRY TALES: ABC's Once Upon a Time and NBC's Grimm continue to pull in high ratings. And with the anticipated Angelina Jolie Maleficent (2014), the film adaptation of Stephen Sondheim's Into the Woods (2014), and Kenneth Branagh's Cinderella (2015), Hollywood is infected with fairy tale fever.





CAMEOS FROM FAVORITE CHARACTERS: Viv, who first appeared in Kill Me Softly trailed by her brooding boy-toy Henley, takes center stage in this new Beau Rivage tale. Other familiar characters including Blue and Jewel are back to help her defy her destiny.



TEENS LOVE THIS FAIRY TALE WORLD: Kill Me Soflty was a 2013 YALSA Teens' Top 10. Readers have been clamoring for a sequel.

A FRESH TAKE ON THE FAMILIAR: Drawing on "Snow White," "The Twelve Dancing Princesses," and "Rumpelstiltskin," Tear You Apart is very conscious of the way these stories have pervaded pop culture, twisting known tropes into an exciting new story that can stand on its own.
Source:
I received an e-arc of this book in exchange for an honest review.
I DNFed
Tear You Apart
around 21 percent after I realized I had zero interest in the story, characters, world, or even the
idea
of the book. Very little was gripping me and I found myself starting to skim instead of
read
. This book wasn't for me.
Polaris by Mindee Arnett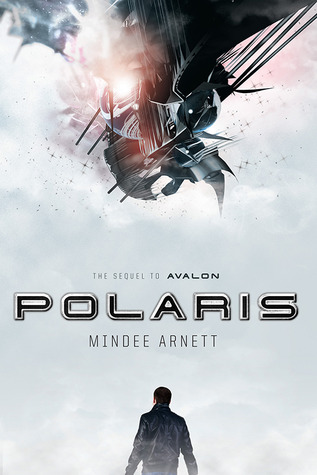 Series: Avalon #2
Genre: YA science fiction
Pages: 432
Publication Date: January 20th, 2015
Publisher: Balzer + Bray
Following the events of Avalon, Jeth Seagrave and his crew are on the run. Jeth is desperate to find the resources and funding he needs to rescue his mother from an ITA's research lab and leave this whole galaxy behind for a new life somewhere else. But the ITA is just as desperate, and soon Jeth finds himself pursued by a mysterious figure hell-bent on capturing Jeth and his crew—dead or alive. In a last-ditch effort to save everyone he holds dear, Jeth enters into a bargain with the last person he ever thought he'd see again: Dax Shepherd, the galaxy's newest and most fearsome crime lord. And he's not the only one: upon arriving back at Peltraz spaceport for the first time since he witnessed the death of his old employer, Jeth discovers Dax has a new partner: Jeth's mother, Marian.





This shocking turn of events is only the first in another breathless, action-packed sci-fi adventure rife with danger, love, and betrayal, as Jeth has to once again ask himself how much he's willing to invest in a morally bankrupt galaxy in the hopes of saving those he cares for.
Source:
I received an e-arc of this book from the publisher in return for an honest review.
Oh
Polaris
. . . why couldn't I have loved you like I did
Avalon
? This sequel was by no means a bad one, but it was a bit of a letdown for me. The first one was so EXCITING. I was glued to that book when I was reading it. For this one, though, I had trouble motivating myself to keep reading it. There were bursts of excitement, but there wasn't enough to suck me in. It took me a long time to read because of that. I definitely still really liked the characters and the world. I also felt really sad during moments when the characters were sad, which shows that I connected with them. For the most part, I was interested in what was going on, but around 20 percent, I was getting antsy. I just wanted to finish it already! Overall, this sequel was a little . . . meh.