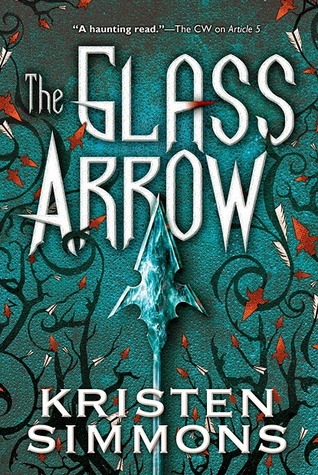 Series:
standalone
Genre: YA dystopia / fantasy
Pages: 336
Publication Date: February 10th, 2015
Publisher: Tor Teen
The Handmaid's Tale meets Blood Red Road in Glass Arrow, the story of Aya, who lives with a small group of women on the run from the men who hunt them, men who want to auction off breeding rights to the highest bidder.



In a world where females are scarce and are hunted, then bought and sold at market for their breeding rights, 15-year old Aya has learned how to hide. With a ragtag bunch of other women and girls, she has successfully avoided capture and eked out a nomadic but free existence in the mountains. But when Aya's luck runs out and she's caught by a group of businessmen on a hunting expedition, fighting to survive takes on a whole new meaning.
Source:
Thank you to Jess @ Novel Heartbeat for lending me an ARC of this book!
The Glass Arrow
was a story of freedom, strength, and sacrifice. The world was set was well built and very interesting. Scary, too. The characters were great and the heroine was amazing!
The concept of the world has been done before--with women being sold to the highest bidder for breeding and increasing the population--but the world it was set in may be one of my favorites when it comes to this concept. Women were just women in this society. They didn't have much worth and they wer always property of someone. Aya's journey showed that women are so much more. She always resisted and never gave up. I admired her strength.
I really liked most of the characters. I got attached to Brax. Kiran was a great help to Aya. He also demonstrated that not
all
men in their society viewed women as bodies to be used for breeding and pleasure. He respected Aya. Also, I really liked Daphne's growth. There were also some despicable characters. Amir creeped me out. He was the scariest character in this book!
Th title and the reasoning behind it, as well as how it related to the story, wa beautiful. I loved it. This was near the end, so I can't say much without spoiling!
Overall, I really enjoyed reading
The Glass Arrow
! If you're a fan of a great world and an amazing heroine, you should consider reading this book.