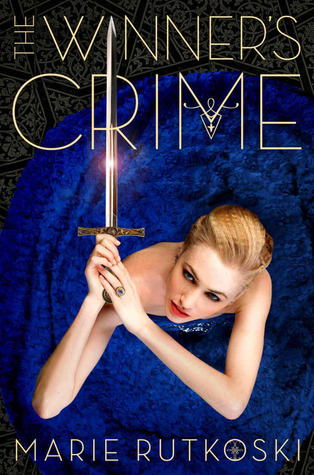 Series:
The Winner's Trilogy #2
Genre: YA fantasy
Pages: 352
Publication Date: March 3rd, 2015
Publisher: Farrar Straus Giroux
Goodreads Description (contains spoilers of first book):
Book two of the dazzling Winner's Trilogy is a fight to the death as Kestrel risks betrayal of country for love.

The engagement of Lady Kestrel to Valoria's crown prince means one celebration after another. But to Kestrel it means living in a cage of her own making. As the wedding approaches, she aches to tell Arin the truth about her engagement…if she could only trust him. Yet can she even trust herself? For—unknown to Arin—Kestrel is becoming a skilled practitioner of deceit: an anonymous spy passing information to Herran, and close to uncovering a shocking secret.

As Arin enlists dangerous allies in the struggle to keep his country's freedom, he can't fight the suspicion that Kestrel knows more than she shows. In the end, it might not be a dagger in the dark that cuts him open, but the truth. And when that happens, Kestrel and Arin learn just how much their crimes will cost them.
Source:
Thank you to the gals behind
On the Same Page
for organizing an ARC tour for this book!
This is a spoiler free review.
The Winner's Crime
lives up to expectations. It's a sequel that fans of the series will absolutely
love
.
The writing was beautiful! There was a lot of great creative descriptive language. Sometimes, a lot of odd metaphors, similes, etc. can bog down a book and annoy a reader, but they were pulled off in this book. The author is a really good writer.
I felt bad for Kestrel. She seems to be misunderstood by
everyone
. Everyone except for the readers. I understand why she makes the choices she makes and I wish more people would let her explain herself. She doesn't have a lot of freedom to do what she
really
wants to do without disastrous repercussions. That oftentimes pushes her to make decisions that upset people, which then upsets
me
because I just want them to understand her!
I still loved Arin, but I Kestrel stole the book for me. I did love his growth as a leader, though.
The two of them together (well, the the dynamic between them) are amazing. Their relationship hurts more than it
doesn't
, but I still love them. There are so many secrets. So much betrayal. So much MISUNDERSTANDING. I wanted to shove them into a locked room (alone) and make them talk and hug and kiss it all out. The bumpiness in their relationship is one of the things that makes me love it so much (despite the pain and heartbreak), though, so I'm okay with a little more drama between them. And I know there will definitely be a lot more of it in the last book!
I loved the new developments that took place, especially towards the end. I
really
like where the story is headed in terms of the politics and the Valorian and Herrani conflict.
I loved the family aspect. Kestrel and her father grew a little closer in this book. They have such a strained relationship, though. Her father wasn't the most loyal one, but I hope that he grows and learns to respect her more.
The ending killed me.
My reaction in my notes after finishing: WHAT. WHY? DON'T DO THISSS! *weeps* HORRIBLE. THAT WAS HORRIBLE.
So, yeah. That ending was torturous. It's one that tears out your her and stomps on it with glee. I NEED the last book. I need to know what happens next!
Overall,
The Winner's Crime
is a sequel that deserves all the hype and all caps reactions it gets. It was a great continuation of the story. If you haven't read the first book, I suggest doing so. And soon!