Exquisite Captive by Heather Demetrios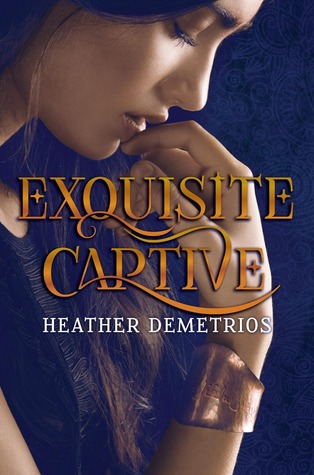 Series: Dark Caravan Cycle #1
Genre: YA fantasy
Pages: 480
Publication date: October 7th, 2014
Publisher: Balzer + Bray
Forced to obey her master.




Compelled to help her enemy.




Determined to free herself.



Nalia is a jinni of tremendous ancient power, the only survivor of a coup that killed nearly everyone she loved. Stuffed into a bottle and sold by a slave trader, she's now in hiding on the dark caravan, the lucrative jinni slave trade between Arjinna and Earth, where jinn are forced to grant wishes and obey their human masters' every command. She'd give almost anything to be free of the golden shackles that bind her to Malek, her handsome, cruel master, and his lavish Hollywood lifestyle.

Enter Raif, the enigmatic leader of Arjinna's revolution and Nalia's sworn enemy. He promises to free Nalia from her master so that she can return to her ravaged homeland and free her imprisoned brother—all for an unbearably high price. Nalia's not sure she can trust him, but Raif's her only hope of escape. With her enemies on the hunt, Earth has become more perilous than ever for Nalia. There's just one catch: for Raif's unbinding magic to work, Nalia must gain possession of her bottle…and convince the dangerously persuasive Malek that she truly loves him. Battling a dark past and harboring a terrible secret, Nalia soon realizes her freedom may come at a price too terrible to pay: but how far is she willing to go for it?

Inspired by Arabian Nights, EXQUISITE CAPTIVE brings to life a deliciously seductive world where a wish can be a curse and shadows are sometimes safer than the light.
Source:
I received an e-arc of this book from the publisher in return for an honest review.
Exquisite Captive
was a bit rough for me when it came to some big parts of the book, but there was enough great elements to make me enjoy reading it.
I liked the characters. Nalia was fiery and determined. Her journey toward freedom was nice to read. I liked Raif's personality and his loyalty to his sister. Zanori was great, too. She was the most delightful of the cast of characters. She had the brightest personality. As for Malek, I liked his role in the story. Nalia's relationship with him was an obstacle for her. She struggled with him in
many
ways, and it just made her stronger in the end. It made the book more interesting.
The story was a bit slow, yet exciting. Things got a bit more intense as it neared the danger in the end. The ending left me curious about what happens next. I definitely intend to continue the series!
I both liked the romance and didn't like it. The chemistry sizzled in the the early stages of Nalia and Raif's relationship. I really, REALLY wanted the two to happen. I was eager for some kissing scenes! Once deeper feelings came into play, it was like the two fell of a cliff into love. Their feelings went from budding to fully bloomed too quickly for me, which left me feeling a little unsettled. It dampened the chemistry I had felt between the two earlier on.
There was so
much
world building. It wasn't . . . even. Sometimes, it felt solid. Other times, I was just confused. There were quite a few things that I still don't have a good grasp on--like the Dark Caravan and Nalia's past--and it feels like I
should
. I liked the ideas, but I wish they were executed better.
Overall,
Exquisite Captive
was a nice read with some different elements than what I've seen in other paranormal books. It was something fresh. Even though the world building didn't feel very strong, I still liked what was going on in it. This is a series that I'm looking forward to continuing!
2015 challenges this book counts towards:
Netgalley & Edelweiss Reading Challenge
No Place to Fall by Jaye Robin Brown


Genre: YA contemporary
Publication Date: December 9th, 2014
Amber Vaughn is a good girl. She sings solos at church, babysits her nephew after school, and spends every Friday night hanging out at her best friend Devon's house. It's only when Amber goes exploring in the woods near her home, singing camp songs with the hikers she meets on the Appalachian Trail, that she feels free—and when the bigger world feels just a little bit more in reach.




When Amber learns about an audition at the North Carolina School of the Arts, she decides that her dream—to sing on bigger stages—could also be her ticket to a new life. Devon's older (and unavailable) brother, Will, helps Amber prepare for her one chance to try out for the hypercompetitive arts school. But the more time Will and Amber spend together, the more complicated their relationship becomes . . . and Amber starts to wonder if she's such a good girl, after all.




Then, in an afternoon, the bottom drops out of her family's world—and Amber is faced with an impossible choice between her promise as an artist and the people she loves. Amber always thought she knew what a good girl would do. But between "right" and "wrong," there's a whole world of possibilities.
Source:
I received an e-arc of this book from the publisher in return for an honest review.
I love YA contemporary romances, so I was expecting to really like (if not love) No Place to Fall! Sadly, it didn't work very well for me. There were a few things that I liked. I liked the bits of romance. It confused me so many times because wasn't sure who exactly the romance was between, but I did like some of the romantic scenes. I liked Amber's passion for music, though the scenes where she sang didn't interest me very much. I also liked the growth the mother went through (I was surprised by that). I liked it better than Amber's because I sensed the mom's growth a whole lot more. Amber grew, but it felt...meh (mainly because I felt meh about her as a character).


The rest of the book? SO BORING. It was bland. Amber wasn't very interesting, which made me less interested in what was going on in her story. The book also seemed . . . jumbled. My confusion over the romance was part of that, but the book as a whole didn't seem to be put together well. The only thing keeping me reading was my curiosity about the romance and who (if anyone) Amber would end up with. Near the end, I just wanted to be finished. I was itching to just be done with the book.
Overall, I was disappointed with No Place to Fall. It sounded like one I would enjoy, but it didn't turn out to be very interesting.
2015 challenges this book counts towards:
Netgalley & Edelweiss Reading Challenge