Paper Towns is one of my all time favorite books. I love this book to pieces. There's a special spot in my heart for this one because there is an amazing story and a lot of meaning to it. It also has my favorite road trip. (Those scenes are hilarious!) Considering how picky I am over movie adaptations of books I love--I'm even reluctant to see The Fault in Our Stars and I love Paper Towns quite a bit more than the other--I was immediately nervous when I first heard that it would be turned into a movie. Usually I ignore movie updates when I'm nervous about them, but . . . I'm thinking of keeping up with the Paper Towns ones. (And who knows, maybe I'll write more reaction posts like this?)
I'm behind in most of the announcements, but I wanted to post my current reactions (before they change after looking up more stuff) to what's happening with the movie.
Right now, I do feel a glimmer of hope that it won't turn out that bad. And that's all because I finally looked up pictures of the people playing the two leads.
Cara Delevingne as Margo Roth Spiegelman
I can totally see it. I can picture Cara playing the Margo scenes. Her look . . . just seems Margo-like to me. I can picture her in the scenes that take place in the book, so as long as her acting is good, I think I'll be okay with this part of the movie.
Nat Wolff as Quentin Jacobsen
I can sorta see it (the more I look at him, the more I can see him as Q.) I'm not as picky when it comes to Q than Margo, though, so I'm not that concerned that Nat Wolff won't do well in the role.
The First Poster . . . *Cues Rant*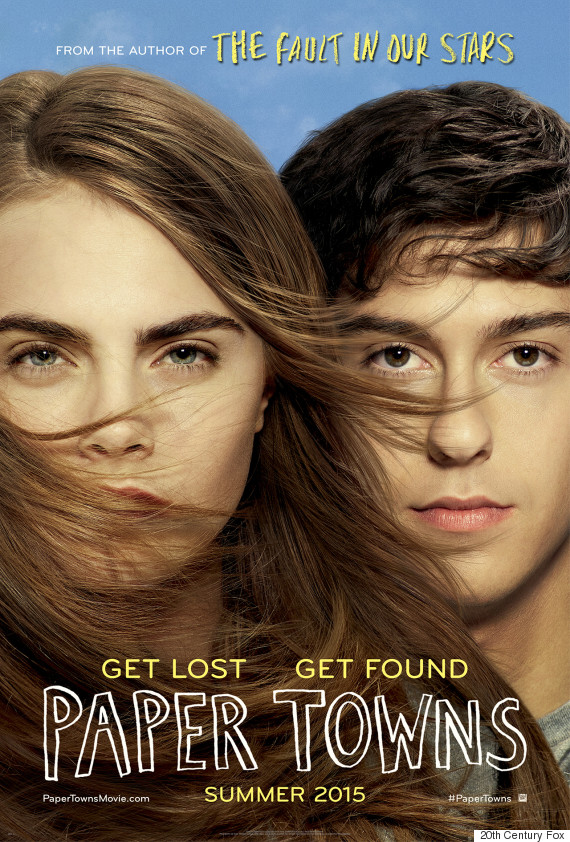 I hate the poster. The only thing I like about it is the font they used for the title. Other than that? It looks awful! The yellow is meh. The blue background above Q and Margo's heads bugs me. Q has such a blank expression on his face. Margo's hair . . . why is it blown across her face?? It's overlapping Q. It looks like it's trying to crowd him out of the image. The tagline "Get Lost" and "Get Found" doesn't do the story justice. The whole thing looks bland and if I wasn't familiar with the book, I doubt it would make me any more interested in watching the movie.
*hopes there will be a new, better poster out soon*
When I saw the poster (this was before looking up pictures of Cara and Nat--the poster was my first big impression of the movie), my nervousness came back in full force. The actors didn't look like they could pull off Q and Margo, and when that happens, how can you not feel nervous about the movie? If the main characters aren't casted well enough, it can be disappointing! They can make a bunch of changes (while keeping the essence of the story) and I wouldn't mind so much, but if the actors don't fit the roles or act well, I'll be reluctant to even see the movie.
I'm happy that I'm satisfied with the casting of the two leads. It's gave me some hope for the movie. Even though the first poster sucks and does not do Paper Towns justice, I'm going to (try to) ignore how nervous it makes me and hold onto this hope I feel. Maybe I'll actually watch this movie adaptation. :)
What do you think of the first poster and the casting? Are you more excited or nervous about this movie adaptation?