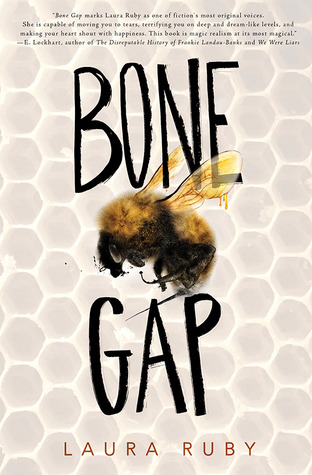 Series: standalone
Genre: YA contemporary
Pages: 368
Publication Date: March 3rd, 2015
Publisher: Balzer + Bray
Everyone knows Bone Gap is full of gaps—gaps to trip you up, gaps to slide through so you can disappear forever. So when young, beautiful Roza went missing, the people of Bone Gap weren't surprised. After all, it wasn't the first time that someone had slipped away and left Finn and Sean O'Sullivan on their own. Just a few years before, their mother had high-tailed it to Oregon for a brand new guy, a brand new life. That's just how things go, the people said. Who are you going to blame?





Finn knows that's not what happened with Roza. He knows she was kidnapped, ripped from the cornfields by a dangerous man whose face he cannot remember. But the searches turned up nothing, and no one believes him anymore. Not even Sean, who has more reason to find Roza than anyone, and every reason to blame Finn for letting her go.





As we follow the stories of Finn, Roza, and the people of Bone Gap—their melancholy pasts, their terrifying presents, their uncertain futures—acclaimed author Laura Ruby weaves a heartbreaking tale of love and loss, magic and mystery, regret and forgiveness—a story about how the face the world sees is never the sum of who we are.
Source:
I received an e-arc of this book from the publisher in return for an honest review.
Bone Gap
was weird--in a really good way. There was a normalness to the book, yet at the same time, it didn't feel normal. The author did a great job melding the normal and not-so-normal elements to create something convincing and magical and, like I said,
weird
.
I really liked the cast of characters. They were quirky. There was Finn with his awkwardness and his inability to describe faces well. He was called "Moonface" by a lot of people. His friend, Miguel, had really long arms. Petey was oftentimes said to be a beautiful girl with an ugly face that resembled a bee's. Charlie Valentine had a lot of chickens that he let roost inside his house. There were a lot of odd characters!
An element of mystery when it came to Roza's kidnapping. It was . . . a bit dark, actually. The person that took her was a creep (which was demonstrated in the first Roza chapter). He wanted to make her love him. That's all I'll say on this matter, though. It's best to go into this book mostly blind. It's more surprising that way.
I had an issue with the time frame of the book. It got odd and hard to follow at times. There were flashbacks for all the characters that had their own chapters. Sometimes, flashbacks for one character included a scene that was in another flashback. The transition into and out of past events wasn't always easy to detect, so I got confused a few times.
Overall,
Bone Gap
was a great read with quirky characters and weird elements. For me, the book was about what it means to really know someone (or be familiar with him/her). There's more to people than face value. That's the biggest theme I paid attention to. The story can definitely be interpreted in different ways, though, which makes this book even better. I highly recommend reading this one if you're up for something weird and interesting.