Hi everyone! I'm I have a review of 99 Days for you today.☺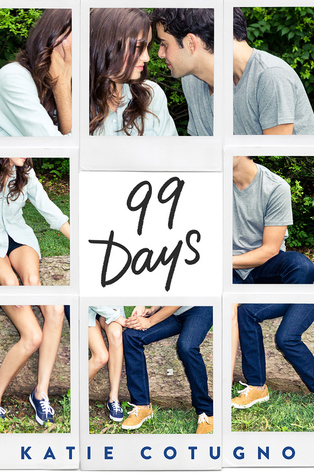 Genre: YA contemporary
Pages: 384
Publication Date: April 21st, 2015
Publisher: Balzer + Bray
Day 1: Julia Donnelly eggs my house my first night back in Star Lake, and that's how I know everyone still remembers everything—how I destroyed my relationship with Patrick the night everything happened with his brother, Gabe. How I wrecked their whole family. Now I'm serving out my summer like a jail sentence: Just ninety-nine days till I can leave for college, and be done.





Day 4: A nasty note on my windshield makes it clear Julia isn't finished. I'm expecting a fight when someone taps me on the shoulder, but it's just Gabe, home from college and actually happy to see me. "For what it's worth, Molly Barlow," he says, "I'm really glad you're back."





Day 12: Gabe got me to come to this party, and I'm actually having fun. I think he's about to kiss me—and that's when I see Patrick. My Patrick, who's supposed to be clear across the country. My Patrick, who's never going to forgive me.
Source:
I received an e-arc of this book in exchange for an honest review.
I definitely got sucked into
99 Days
! It was tough to pull away from at many times. It wasn't until the end, though, that I looked back and thought, "wow, that was REALLY good." Events in the end made me appreciate how things were handled in this book, even if I did get upset with the main character's actions on quite a few occasions.
You will most likely be upset with Molly. She made some really bad decisions and she may not learn from them as quickly as some readers would like (it takes her quite awhile). She was a runner. She always ran away, but part of what this story was all about is growing a spine and learning how to sticking up for yourself. One of my favorite things about Molly is that she is so flawed--so incredibly flawed. I loved the lessons she learned from her mistakes! I also loved where her story ended. It felt
right
. The ending was perfect for her growth. It just . . . needed to happen.
I don't have much to say about the other characters. Tess and Imogen stood out the most. I felt really bad for Tess. She was an incredibly nice person and didn't deserve certain things that happened to her. As for Imogen, I appreciated her and Molly's relationship. It was helpful for the heroine to have some support from a good friend. Just because you made terrible mistakes doesn't mean you shouldn't be able to rebuild great friendships!
There is definitely romance, but that's not what the book is about. I don't even have much to say on the romance! I can say that I liked Gabe more and despised Patrick at many times, but the guys weren't one of the best parts for me. Sure, I loved the scenes with Molly and Gabe, but looking back, those weren't what made me really like the book.
I loved what this book was really about (or at least, what it was about to me--it can be interpreted in different ways). Sometimes, you just have to say
enough
and let things go. That can take a lot of courage to do, since moving on can be so difficult. Also, saying "enough" isn't the same as running away. They seem similar, but they're quite different.
Overall, this book was pretty great! I appreciated how Cotugno tackled a tough story. There were things in
99 Days
that won't make readers happy, but they were necessary for the story and the character growth. The fact that they even happened made me like the book a little more. It felt
different
, too. It had cheating in it, which can be tough to include in YA (since so many readers are against it). If you like YA contemporaries with a heroine that, despite how unlikable she may be to some readers, makes a big leap in growth by the end of her story, I definitely recommend this one!
Want to buy the book? Here are the purchase links!
Here's the official book trailer:
Katie Cotugno went to Catholic school for thirteen years which makes her, as an adult, both extremely superstitious and prone to crushes on boys wearing blazers. She routinely finds herself talking about the romantic endeavors of characters on TV shows as if they actually exist in the world.
Katie is a Pushcart Prize nominee whose work has appeared in The Broadkill Review, The Apalachee Review, and Argestes, as well as on Nerve.com. Her first novel, HOW TO LOVE, is due out from Balzer + Bray on October 1st, 2013.
The great loves of Katie's life include child's pose, her little sister, and mozzarella and honey sandwiches. She lives in Boston (and in sin) with her boyfriend, Tom.
Win (1) signed finished copy of 99 Days by Katie Cotugno (US Only)