In case you missed the
intro
with the description and main giveaway, this event is simply about checking in with 2014 debut authors who have at least one release in 2015 (AKA their sophomore year as an author).
Today's spotlight post is an interview with Danielle Ellison! I've read her Salt series, which is pretty good.☺ Danielle released her debut book, Salt, as well as Follow Me Through the Darkness (book one in The Boundless Trilogy) and Storm (sequel to Salt) in 2014. Her 2015 releases are Days Like This (NA contemporary, June 2nd) and Seek Me in the Shadows (book two in The Boundless Trilogy, October 20th).

I hope you like the interview!
Danielle Ellison spent most of her childhood reading instead of learning math. It's probably the reason she can't divide without a calculator and has spent her life seeking the next adventure. It's also probably the reason she's had so many different zip codes and jobs.
When she's not writing, Danielle is probably eating cookies, fighting her nomadic urges, watching too much TV, or dreaming of the day when she can be British. She has settled in Northern Virginia, for now, but you can always find her on twitter @DanielleEWrites.
Hi Danielle! Welcome to Reading is My Treasure.☺
How different are the heroines of Days Like This and The Boundless Trilogy? Are they similar in any way?
Other than both of them coming from different worlds, they have different cores. Neely loves and fights for other people, even at personal cost. She takes swings as they come and faces them and figures out how to overcome. Cassie is the opposite in many ways, namely in that she doesn't trust herself nearly as much as Neely trusts herself and she runs when she's scared. She can justify running and Neely would never run from a problem. Cassie seems more selfish than Neely, but the thing that drives each of them is very similar.
Both understand sacrifice, loss, love fiercely, and each has one parent instead of two. They each have all these emotional walls they live behind and let very few people inside them. Neely and Cassie (even Penelope in Salt) share a stubbornness. They are stubbornly resolute in their decision making. They do what they think is right regardless of society or opinion or expectation. Each of them does it for, what they think, is a good reason. Whether that reason for other people, for someone they love or for themselves.

I really liked Penelope's stubbornness, so I'm looking forward to seeing the other two heroines be stubborn as well.
Which of your characters do you identify the most with?
I identify with each of them in some way. Every character I write has some piece of me in it -- something I love or dislike about myself, a trait, a flaw, a wish of what I could be, or desire -- so that makes it hard to pick one. Each of them (even characters that others haven't read yet) have that stubborn nature I mentioned. They get it naturally. There's my own sadness or lostness, my own relationship things, whatever, in the books. Neely (Follow Me Through Darkness) represents a time when I was really lost and seeking truth. Penelope (Salt) is very much the "I can do it on my own" part of me that hates to admit when she's in too deep. Cassie (Days Like This) has this whole story arc with her mom, and while my mother and I didn't experience the same hardships as Cassie and Joyce, some of my feelings about growing up are sewn into Cassie.


I'm excited for Days Like This! What made you start writing an NA contemporary?
Aw yay! Thank you. I'm excited to share it!
I write characters - that's what I'm good at, what I want to be known for - and when I had the idea for Days Like This I had Cassie's voice and the opening line. I knew Cassie wasn't a teenager. She had to be old enough to leave home and to break an engagement, but young enough for the running away and the overwhelming nature of it to make sense. So, it just felt like she'd be in college and a younger adult, on her own but barely. I knew that their love story would have to have more intensity than YA "allowed" so it felt NA to me. I wrote the first draft of this book almost three years ago. It was right as NA was becoming big - and very pigeonholed at the time into sex books. I knew there'd be a change in content eventually, people wanting more story and more variety, so I was like "I can do that. I can set a be ahead of curve." And the rest is sort of history.

Now I'm even more excited! I prefer more story in NAs. :)
What are some things readers can expect from Days Like This that isn't mentioned in its book description?
Music! It's a huge theme in the book -- and will be in all three in the series. There are mentions of songs that Cassie listens to, songs she writes, idols and ideas she has. The music is sometimes like another character in the book, and that's what I wanted because it really captures so much. It's a huge part of her life, her journey and the book as a whole. There are also a few supporting characters who really sort of make the book and so far the responses have always included them.
I know the cover looks fun and adorable, and yes this book is that, but it's also a little heartbreaking and very emotional, which is what makes it special.
Name three things you weren't expecting to experience when you became a published author.
1. The community. I have found such a wonderful community of writers, readers, bloggers, etc. and most of my best friends are writing/publishing friends. It's so wonderful to be surrounded by others who love what you love and push you.


2. The doubt. Publishing the book is just the beginning. There's so much that happens after you sell it, after it comes out, and moving forward. Sometimes, when you're writing for publication, you think "When this happens then I will have made it." And you never think about the doubt, about the worries, about the reviews that come in (or don't come in), about how connecting with other authors and readers will effect you. Doubt is a powerful thing, and it never, ever goes away.


3. How hard it would be to write. Life is demanding, and even when you've published a book (or four) it's still very difficult to make it a priority, especially when you're working and in school and having a life. There's always another deadline, another book to write, another interview, another book to promote. Promotion is a lot of work. And there's the the wondering if your book is selling, making a plan to do it more, etc. So, it's important to remember that you're doing this because you want to write--and then actually doing it, which is a different task entirely.
What have you learned about yourself and/or your writing style since releasing your debut?
I've learned that you have to be true to yourself. Not everyone writes the same way, which is good because otherwise we'd only have one book to read! It's hard but you have to tell the story you want to tell, the way you want to tell it. Some people will love it, some will hate it, but as long as you're happy with it then you've done your job.
I heard Barry Lyga speak and he said this incredible thing that's stuck with me for a year now. He said, "When I die all that's left is a bookshelf of books with my name on them, and I want them all to representations of myself and to be what I always wanted them to be - not what someone else said they should be. People see what they want to see when they read and you can't control that, you can't direct how they read a story. You just have to put out a story that means something you and that's solid in your head and let it go."
I think that applies to so much of what I've learned in the last year and a half.
Since you've written in a few different genres so far, is there one that feels more fun to write for you? Is there one that feels easier to write?


I have learned through all of this that I really, really adore writing contemporary. I've always been a character writer, just meaning that (for me) they drive the stories. In contemporary you can focus on that more, since there's no impending world-ending situations happening. I do think there's something special about writing speculative fiction of any kind, and I won't say that I will never do it again, but it is nice to get to take a break from the world building and the bad guys to focus on more daily struggles - like emotions and kissing.
Thanks for answering my questions!
Below is information about Danielle's debut, her 2015 NA release, and the first book in The Boundless Trilogy (like always, I don't want to share spoilers).
Never leave home without salt.





Penelope is a witch, part of a secret society protecting humans from demon attacks. But when she was a child, a demon killed her parents—and stole her magic. Since then, she's been pretending to be something she's not, using her sister's magic to hide her own loss, to prevent being sent away.





When she's finally given the chance to join the elite demon-hunting force, Penelope thinks that will finally change. With her sister's help, she can squeeze through the tests and get access to the information she needs to find "her" demon. To take back what was stolen.





Then she meets Carter. He's cute, smart, and she can borrow his magic, too. He knows her secret—but he also has one of his own.





Suddenly, Penelope's impossible quest becomes far more complicated. Because Carter's not telling her everything, and it's starting to seem like the demons have their own agenda…and they're far too interested in her.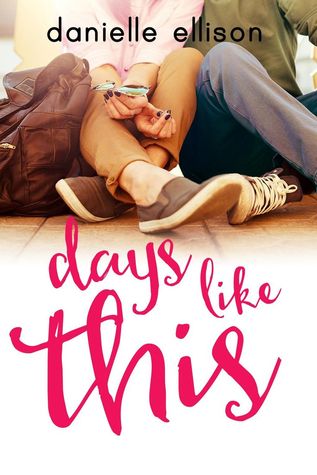 Sometimes the only thing standing between fear and hope is you.





Almost a year ago, nineteen-year-old Cassie Harlen had a lot to deal with. A stack of college acceptance letters waiting for answers, a proposal from the boy next door, and a mother whose most recent bipolar episode left Cassie hurt and confused. Tired of cleaning up the messes caused by her mother's disorder, of resenting her mother for not being there, and scared of being trapped by an inevitable future—which included marrying Graham Tucker—Cassie did the only thing she could think of to keep from ending up like her mother: she left.





Graham never knew why Cassie walked away. He woke up one morning and she was gone—along with the life that he'd created around her. After eleven months, Graham has a new plan for his future. One that doesn't involve Cassie Harlen.





When Cassie's mom nearly burns down her house, Cassie's forced to return home. Back to a mother she's tried to ignore and the guy she's been unable to forget. Graham doesn't know how he's going to spend the whole summer living next door to the person who broke his heart without letting those old feelings push through to the surface.





Neither does Cassie.
The truth won't always set you free.




Less than a year ago, Neely Ambrose's biggest worry was having the freedom to follow a path that wasn't chosen for her.





Less than a year ago, she believed she could trust the Elders who said they had everyone's best interest at heart and who said they were keeping them safe from the outside.





Sixty days ago, she discovered what they had planned for everyone she loved—and that all of it centered around her.




Now she's on the run through a dangerous wasteland full of killing machines, secret organizations, and people who want to sell her back to the Elders for their own safety. The whole world outside the Compound is living proof that everything in Neely's life was a lie manufactured by the Elders, which may even include the boy she loves.





All Neely wants is the truth, but each new piece of it drives her further from what she thought she knew. With only forty days until everyone she loves falls under the Elders' mind control, Neely must decipher who to trust, what questions to ask, and how to get one step ahead of the Elders, who will do anything to keep their secrets buried.
Have you read any of Danielle's books? What did you like about the interview?
(Also, if you happen to comment on this post, you can get a couple entries in the
event giveaway
.
)