Woohoo! It's the first author feature of Sophomore Spotlight! In case you missed the intro with the description and main giveaway, this event is simply about checking in with 2014 debut authors who have at least one release in 2015 (AKA their sophomore year as an author).
Lindsay Cummings is the 24-year-old author of THE MURDER COMPLEX series from Greenwillow Books/HarperCollins, and the MG trilogy THE BALANCE KEEPERS, from Katherine Tegen Books/HarperCollins.
Lindsay deals with chronic fatigue, can't get enough of her two pesky German Shepherds, wolf cub, and two horses. She's still waiting on her letter from Hogwarts--it was probably just lost in the mail. You can follow Lindsay on twitter @authorlindsayc
Website / Twitter / Instagram / YouTube / Tumblr / Pinterest / Facebook / Goodreads
Hi Lindsay! Welcome to Reading is My Treasure.☺
First, tell me a random fact about yourself.
I hate wearing pants.
What have you learned about yourself and/or your writing style since releasing your debut?
I've learned that writing is SUPER tough! But it's also something I love, and always will love! I've also learned it's important to believe in yourself, and don't measure your successes up against anyone else's! We all have our own journeys.
Great advice!
How do you balance writing both a YA and MG series?
I usually have my books due around the same times, so I try to write them as quickly as possible. Sometimes, if I'm on a double deadline, I do MG in the morning, YA at night. It's lots of fun, because it keeps me on my toes :)
Name three things you weren't expecting to experience when you became a published author.
1: readers giving me free hot cheetos and reese's.
2- having to travel SO much!
3- still getting nervous every time I hear someone's read my book.
I really liked The Murder Complex! What can readers of the series expect in the sequel?
Yay!! :) In THE DEATH CODE, they can expect a darker side to Zephyr, and a sort of "who am I, really?" thought process from Meadow. Also…it's possible we'll get to see some of the world outside of the Shallows!
Oooh...
How about The Balance Keepers? What can readers expect the second book?
I actually think the second book is way better :) Maybe it's the ocean-y adventures. Maybe it's the blue cover. Maybe, it's that it's way bigger than book one. I don't know! But there's more drama, more excitement, and more FARNSWORTH (the dog. of course I'm excited about the dog).
If you had to pick one of your characters to have as a best friend, who would you pick?
Birdie Howell from Balance Keepers. She and I would get along perfectly (could be because she's the younger, animal-loving version of me? lol). Also Sketch, from Murder Complex, because she cracks me up.
Thank you for answering my questions!
I'm only sharing the descriptions to Lindsay's first two books to avoid spoilers!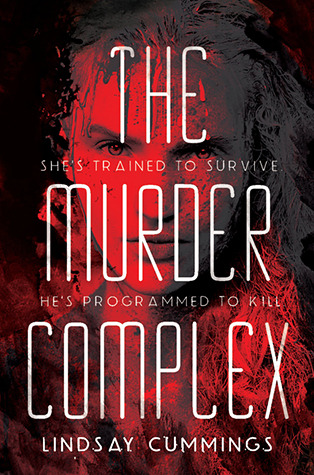 An action-packed, blood-soaked, futuristic debut thriller set in a world where the murder rate is higher than the birthrate. For fans of Moira Young's Dust Lands series, La Femme Nikita, and the movie Hanna.





Meadow Woodson, a fifteen-year-old girl who has been trained by her father to fight, to kill, and to survive in any situation, lives with her family on a houseboat in Florida. The state is controlled by The Murder Complex, an organization that tracks the population with precision.





The plot starts to thicken when Meadow meets Zephyr James, who is—although he doesn't know it—one of the MC's programmed assassins. Is their meeting a coincidence? Destiny? Or part of a terrifying strategy? And will Zephyr keep Meadow from discovering the haunting truth about her family?





Action-packed, blood-soaked, and chilling, this is a dark and compelling debut novel by Lindsay Cummings.
The first book in an epic middle grade fantasy adventure series that takes place in an underground society at the center of the earth. Packed with action, humor, magic, and mystery.





After following a mysterious map into the woods and then under the woods, eleven-year-old Albert Flynn learns he's a Balance Keeper—someone with special magical skills for fixing problems in three underground Realms at the Core of the earth. His new job is important; if the realms fall out of balance, the world above could be in great danger.





Albert and his Balance Keeper teammates Birdie and Leroy arrive in the Core not a moment too soon. There's an Imbalance in the Calderon Realm and it's threatening to bury Albert's hometown of New York City in a mountain of ash.





The three must train hard completing mental and physical challenges, but above all, they must harness the power of their Tiles—unique superpowers given to each Balance Keeper. So far, Albert's mastered the art of not mastering his Tile....





With the situation in Calderon growing worse every day, can Albert, Leroy, and Birdie restore balance before New York is destroyed forever? Will Albert master his Tile before it's too late?





Perfect for fans of Percy Jackson, The Unwanteds, and the classic Journey to the Center of the Earth.
I hope you liked the first spotlight! Come back tomorrow for another one!
(Also, if you happen to comment on this post, you can get a couple entries in the event giveaway.☺)