In case you missed the
intro
with the description and main giveaway, this event is simply about checking in with 2014 debut authors who have at least one release in 2015 (AKA their sophomore year as an author).
Today's spotlight is a guest post by Lisa Maxwell! Her debut was Sweet Unrest and her 2015 release is the sequel, Gathering Deep (out October 8th). She has written a post about the

Five Challenges of Writing a Sequel! She also offered to do a swag pack giveaway.☺
Lisa Maxwell is the author of Sweet Unrest (Flux), Gathering Deep (Flux, 2015) and The Stars Turned Away (Simon Pulse, 2016). When she's not writing books, she teaches English at a local college. She lives near DC with her very patient husband and two not-so patient boys.
Five Challenges of Writing a Sequel
My upcoming October release, GATHERING DEEP, is a sequel to my debut, SWEET UNREST. GATHERING DEEP picks up right where SWEET UNREST left off, but it's a different kind of sequel. It doesn't really continue with Lucy and Alex's story, but instead it's a companion novel that gives readers Chloe and Thisbe's story. Kaitlin asked if I could tell you all a little about the challenges of writing a sequel, and I was excited to have the opportunity to. So without further ado, here are five challenges to writing a sequel:
1. The sequel you planned and the sequel you have to write are different beasts: When I first wrote SWEET UNREST, it was at the height of the time when most books were parts of trilogies. So I planned a trilogy. I put lots of little Easter Egg hints into the first book to make the rest of the trilogy work… And then my editor suggested I change the ending of the book, and the planned trilogy wasn't even a possibility. So I was back to square one. GATHERING DEEP is a very different book than I imagined a sequel to SWEET UNREST would be.
2. You're still dealing with the same world: Which sounds like it would be the opposite of a challenge, but you're still dealing with the same world. And no one wants to read the same book twice. There are rules from that world that you can't break (no matter how much you might want to). Those provide a framework, which is great, but they can also feel like a cage. There are only so many times your characters can look at the plantation house or get beignets at Café Du Monde, you know? The freedom of the first book, when you could decide that anything was possible is now gone.
3. You're dealing with the same characters: Again, this seems like it might be a good thing, a short cut of sorts, but there is the double challenge of making sure that those characters remain consistent and the challenge of making them feel fresh and new.
4. The stakes have to be higher: Whenever you're writing a book, you have to strive to make the conflict feel life or death. If the stakes aren't high, who is going to keep reading? So you stretch yourself and push to make sure that the first book does all of that…and then you have to push even more, stretch even farther, and make sure that the sequel surpasses the first one.
5. You've set a (high) bar, and now you have to raise it: If a reader picks up the sequel because they liked your first book, you owe them. They've been loyal and supportive and have helped to keep you in print, and now you have to deliver something even better than the first book. You can't disappoint them. This isn't a pressure I felt with the first book. With the first book, it was about writing the best book that I could, but with the second, I knew it had to be better—bigger story, creepier atmosphere, more twists and turns. More, more, more.
It wasn't easy, but I think I did that with GATHERING DEEP. I hope readers love it as much as I do!
Here's the description of the first book in Lisa's series!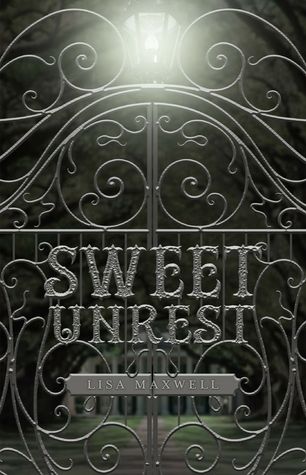 Goodreads Description:
Lucy Aimes has always been practical. But try as she might, she can't come up with a logical explanation for the recurring dreams that have always haunted her. Dark dreams. Dreams of a long-ago place filled with people she shouldn't know…but does.





When her family moves to a New Orleans plantation, Lucy's dreams become more intense, and her search for answers draws her reluctantly into the old city's world of Voodoo and mysticism. There, Lucy finds Alex, a mysterious boy who behaves as if they've known each other forever. Lucy knows Alex is hiding something, and her rational side doesn't want to be drawn to him. But she is.





As she tries to uncover Alex's secrets, a killer strikes close to home, and Lucy finds herself ensnared in a century-old vendetta. With the lives of everyone she loves in danger, Lucy will have to unravel the mystery of her dreams before it all comes to a deadly finish.
Want to win a swag pack from Lisa Maxwell? This giveaway is US only and ends on July 5th @ midnight PST.
Please no entering with giveaway Twitter/other social media accounts and please be familiar with my
giveaway policy
before entering.
a Rafflecopter giveaway