In case you missed the
intro
with the description and main giveaway, this event is simply about checking in with 2014 debut authors who have at least one release in 2015 (AKA their sophomore year as an author).
I have an interview with the awesome Sara Raasch to share with you today! I also featured Sara during Class of 2014 (last year's version of this event) and I'm excited to feature her again this year.☺ Her debut, Snow Like Ashes, released last October. Her 2015 release is the sequel! Ice Like Fire releases on October 13th.
Sara Raasch has known she was destined for bookish things since the age of five, when her friends had a lemonade stand and she tagged along to sell her hand-drawn picture books too. Not much has changed since then — her friends still cock concerned eyebrows when she attempts to draw things and her enthusiasm for the written word still drives her to extreme measures. Her debut YA fantasy, SNOW LIKE ASHES, came out October 14, 2014 from Balzer + Bray, and the sequel, ICE LIKE FIRE, comes out October 13th, 2015. Neither features her hand-drawn pictures.
Hi Sara! Welcome to Reading is My Treasure.☺
Thanks for having me!
I'm really excited to continue reading your series! What can your readers expect from Ice Like Fire when it comes to the world and the characters?
MORE. More of the world (we get to spend a LOT of time in the Summer Kingdom, as well as the kingdoms of Yakim and Ventralli) and there are will be a TON of new characters (such as the princess of Summer, Ceridwen, who is one of my favorite characters in the whole trilogy)!
I'll keep an eye out for her!
If you could spend a week in one kingdom in your series, which would it be and why? How would you spend your week?
I'd have to say Ventralli. It's the "art" kingdom, so every city is very pretty. There are guilds scattered throughout the kingdom, fostering excellence in a variety of artistic pursuits (painting, sculpting, writing, etc) so I'd love to stop by the writing guild, obvs :D
Do you feel any more or less nervous for the release of Ice Like Fire than you did when you were preparing for the release of Snow Like Ashes?
A bit of different nervousness, but overall less nervous -- ha, does that make sense? I'm more nervous for people to like ILF than I was for SLA, as the second books in trilogies can be received with varying opinions, but at the same time, I'm confident in my readers and I ADORE my fans, so I know they'll love getting to read more about Meira, and I'm excited to share the story!
It makes perfect sense!
Name three things you weren't expecting to experience when you became a published author.
1) Anxiety. (Okay that's a lie, I totally expected to experience it.)
2) FANDOMS. (I'd *hoped* that SLA would get a fandom, but I never let myself dare dream that it would be such an amazing, dedicated fanbase!)
3) Constant bouts of my own fangirling. (I just got back from a conference where, every time I turned a corner, I'd see some new author I worshipped and have a moment of "Wait...WE HAVE THE SAME JOB.")
:D
What have you learned about yourself since releasing your debut?
That I'm capable of being selfish. WHICH SOUNDS SO BAD, but really, before SLA's release, I aspired to do everything -- and I tried, for the first few months/
events
. But I quickly learned that that's a surefire way to BURN. OUT. (especially when you add sensitive health issues on top of such a strenuous schedule) and that I had to, for my own wellbeing, learn to say No, limit myself, and allow myself to not do everything.
What are you currently working on?
Editing Book 3 in the SLA trilogy as well as putting together a proposal for a new project!
Ooh, NEW PROJECT? I always love those words. They're so exciting!
Lastly, tell me one random fact about yourself and one random fact about your series.
Random Fact About Me: I can quote the entire opening monologue from the movie LOTR: Fellowship of the Ring.
Random Fact About SLA: In my head, Mather has a jaw that could cut diamonds.
It always amazes me when someone can quote that much of something. I can quote . . . moments that are one or two sentences long from certain books. :D
Thank you for answering my questions!
Here's the description of Sara Raasch's debut! I'm leaving the description for
Ice Like Fire
out because it's spoilery, but if you do want to check it out, here's the
Goodreads link
.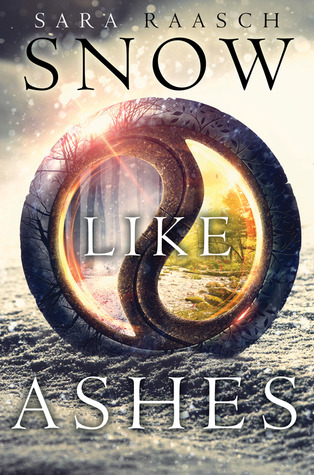 Goodreads Description:
Sixteen years ago the Kingdom of Winter was conquered and its citizens enslaved, leaving them without magic or a monarch. Now the Winterians' only hope for freedom is the eight survivors who managed to escape, and who have been waiting for the opportunity to steal back Winter's magic and rebuild the kingdom ever since.

Orphaned as an infant during Winter's defeat, Meira has lived her whole life as a refugee, raised by the Winterians' general, Sir. Training to be a warrior—and desperately in love with her best friend and future king, Mather—she would do anything to help Winter rise to power again.

So when scouts discover the location of the ancient locket that can restore their magic, Meira decides to go after it herself. Finally, she's scaling towers and fighting enemy soldiers just as she's always dreamed she would. But the mission doesn't go as planned, and Meira soon finds herself thrust into a world of evil magic and dangerous politics—and ultimately comes to realize that her destiny is not, never has been, her own.

Sara Raasch's debut fantasy is a lightning-fast tale of loyalty, love, and finding one's destiny.
Buy SNOW LIKE ASHES and Pre-order ICE LIKE FIRE: