In case you missed the intro with the description and main giveaway, this event is simply about checking in with 2014 debut authors who have at least one release in 2015 (AKA their sophomore year as an author).
Trisha has written about the top ten things she learned about in her debut year! I hope you enjoy reading it.☺
Trisha Leaver lives on Cape Cod with her husband, three children, and one rather irreverent black lab. She is a chronic daydreamer who prefers the cozy confines of her own imagination to the mundane routine of everyday life. She writes Young Adult Contemporary fiction, Psychological Horror and Science Fiction and is published with FSG/ Macmillan, Flux/Llewellyn and Merit Press. To find out more about Trisha and her quest to reel in the perfect tuna, please visit her website: www.trishaleaver.com
Top Ten Things I Learned About Myself My Debut Year
ü
Panster:
I. Can't. Plot. When I sit down to write a book, I have good handle on the first three chapters and a general idea of the ending – who is coming out alive, who is going to be the most damaged, etc… But everything in the middle is fair game. My characters literally drive the story from one chapter to the next.
I've tried to plot. I have spent weeks crafting complicated character maps and time lines. I've even taken courses of writing in reverse and plotting out your manuscript. But, in the end, I am a panster through and through.
ü
Armadillo skin:
For years, I considered my skin to be as thick as an armadillo.
I could handle the criticism. After all, writing is art and everybody's interpretation of art is different. Yeah…then THE SECRETS WE KEEP actually hit the shelves and I realized what I had was not armor-like skin, but rather carefully placed Saran Wrap.
ü
Nightlighter:
I do my best writing late at night when the house is quiet and world is dark. It is almost as if the distractions of the day literally fade away and my mind is free to create.
ü
Daytime Reviser:
One the flip side, I absolutely cannot edit at night.
Whether it be copy-edits or line edits, I need seven cups of coffee and the light of day to make that side of my brain work.
ü
Patience:
Publishing a book is wonderfully exciting and painfully slow process. Even taking the whole writing, revising, and getting an agent timeframe out of the equation, it can still be upwards of 24 months before between sale date and release date. I started writing THE SECRETS WE KEEP in August of 2012; it hit the shelves April 28
th
of 2015. That is nearly three years. So what do you do in the time in between? My advice…write more books, perfect your craft, and keep busy!
ü
Form/ From:
I have a serious problem with the words form and from.
I know the difference between them. I can recite their meanings and proper uses of them, but yet my fingers always, ALWAYS, type them out wrong.
So much so, that it is the first grammar sweep I make on my manuscripts.
ü
Dead Silence:
I can't write to music. I need absolute silence when I sit down to write. Each of my manuscripts has a playlist, and I do listen to them before I sit down to write to set the tone. But, when I actually start typing out words, I need absolute silence.
ü
Mood Swings:
I hadn't realized this until it was pointed out to me by a dear author friend who reads my work chapter by chapter as I write. Apparently, my moods take on those of my characters when I am deep into the writing process.
If my character is angry or elated or depressed then so am I. I guess I truly am an emotional writer
J
ü
Give me all the coffee:
Coffee makes my world go round. Literally.
Until I started writing, I drank a cup in the morning, maybe two and that was it. Now, it is my go to beverage when I am working on a deadline. In fact, I keep a bag of chocolate covered expresso beans in my purse for those rare times when there isn't a coffee machine within arm's length.
ü
Balance:
Finding a good balance between writing, and family, and hobbies, and promoting is a constant struggle for me. I gave up a lot of my hobbies when I started writing full time, simply because of the time factor. But what I found was that my writing suffered…I suffered because of it. And when I get flustered, or stressed, or anxious, then my writing curve dips way down. So now, I make a conscious effort to fit all those in, even it means a fewer words written every day.
I'm including descriptions for all of Trisha's 2015 releases!
A girl takes over her twin sister's identity in this emotionally charged page-turner about the complicated bond between sisters.





Ella and Maddy Lawton are identical twins. Ella has spent her high school years living in popular Maddy's shadows, but she has never been envious of Maddy. In fact, she's chosen the quiet, safe confines of her sketchbook over the constant battle for attention that has defined Maddy's world.





When—after a heated argument—Maddy and Ella get into a tragic accident that leaves her sister dead, Ella wakes up in the hospital surrounded by loved ones who believe she is Maddy. Feeling responsible for Maddy's death and everyone's grief, Ella makes a split-second decision to pretend to be Maddy. Soon, Ella realizes that Maddy's life was full of secrets. Caught in a web of lies, Ella is faced with two options—confess her deception or live her sister's life.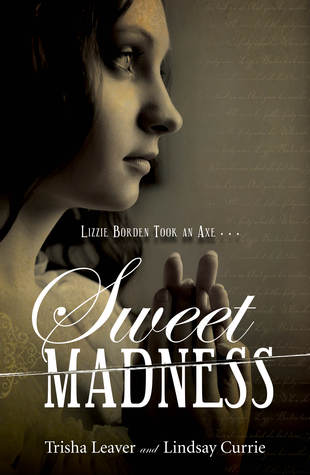 Sweet Madness - releasing September 15th
Seventeen-year-old Bridget Sullivan is alone in Fall River, a city that sees Irish immigrants as nothing more than a drunken drain on society. To make matters worse, she's taken employment with the city's most peculiar and gossip-laden family—the Bordens. But Bridget can't afford to be picky—the pay surpasses any other job Bridget could ever secure and she desperately needs the money to buy her little sister, Cara, passage to the states. It doesn't hurt that the job location is also close to her beau, Liam. As she enters the disturbing inner workings of the Borden household, Bridget clings to these advantages.





However, what seemed like a straightforward situation soon turns into one that is untenable. Of course Bridget has heard the gossip around town about the Bordens, but what she encounters is far more unsettling. The erratic, paranoid behavior of Mr. Borden, the fearful silence of his wife, and worse still…the nightly whisperings Bridget hears that seem to come from the walls themselves.





The unexpected bright spot of the position is that Lizzie Borden is so friendly. At first, Bridget is surprised at how Lizzie seems to look out for her, how she takes a strong interest in Bridget's life. Over time, a friendship grows between them. But when Mr. Borden's behavior goes from paranoid to cruel, and the eerie occurrences in the house seem to be building momentum, Bridget makes the tough decision that she must leave the house—even if it means leaving behind Lizzie, her closest friend, alone with the madness. Something she swore she would not do.





But when Bridget makes a horrifying discovery in the home, all that she thought she knew about the Bordens is called into question…including if Lizzie is dangerous. And the choice she must make about Lizzie's character could mean Bridget's life or death.





SWEET MADNESS is a retelling of the infamous Borden murders from the point of view of Lizzie's Irish maid, Bridget Sullivan.
Hardwired - releasing November 8th
Genetically flawed. Perfectly human.





When seventeen-year-old Lucas Marshall tests positive for the M0A1 gene—a genetic abnormality believed to predispose humans toward violence—he is shipped off to an impregnable government facility to undergo a battery of psychological tests aimed at making him crack. Now, having survived their tests and proven his mental stability, Lucas is labeled safe to return home.





But any hope Lucas has of returning to a normal life is shattered when the van transporting him to the reintegration facility is forced off the road by a group of radicals intent on accessing the facility and exposing it's dehumanizing practices. And Lucas is their ticket through the front door.





Spurred by rumors that the facility is secretly holding one of his old friends captive, Lucas and his bunk mate, Chris, agree to infiltrate the testing facility's inner sanctum. But once inside, Lucas's carefully laid plans begin to unravel, and he's forced to seek help from a group of kids he neither knows nor trusts. And when every genetic test claims your only allies are hardwired to become the next Charles Manson, it's impossible to know who has your back.
Are you excited to read any of these?
(Also, if you happen to comment on this post, you can get a couple entries in the event giveaway.☺)