Sunday Street Team is organized by Nori @ ReadWriteLove28. SST is a like a cross between a blog tour and street team for a couple different titles each month. As the title suggests, the posts go up on Sundays!

Go here to learn more about SST.
One of the featured authors for September is Brianna Shrum! Her book, Never Never, is a Peter Pan retelling--with a twist. It's about James Hook!
I asked Brianna to compare Peter Pan and James Hook because I love asking about characters, especially when they're too seemingly opposites. Hopefully you like reading her post. I found it interesting to read.☺
Oooh, this is such an interesting question. I think my first instinct here is to say that they're complete opposites, and that's true in a way. James is a man, after all, and Peter is this perpetual boy. Plus, they hate each other with every fiber of their beings. But I think that the best, the deepest rivalries often stem from the hero and villain having something terribly in common in their core.
Ultimately, who they are is defined by this: they both grew up without a childhood. Peter never really grew up at all, staying in this phase of boyhood forever, and James (at least in this incarnation of the story) had his violently robbed from him. So both characters live in this world without parents, without authority or boundaries, without reality, even. So they wind up people who do things for
themselves
, think of themselves first (after all, no one else ever has), and let themselves be completely ruled by their emotions. Neither of them has ever really had to live otherwise.
Both Peter and James are driven, single-mindedly, for their own interests in everything they do, every relationship they have, and they both feel deeply, passionately. Both of them live hard and fast, and utterly opposed to one another. It's that old unstoppable force meets an immovable object thing, I guess. (This is a bit of an issue since their spirits have such commonality, but their goals are the opposite: Pan wants to bend the world to be his, to create this home for himself, and James just wants to go back to old one.)
They are two sides of the same coin, I think, Pan and Hook. Living off the same core, but unable to ever really see eye to eye.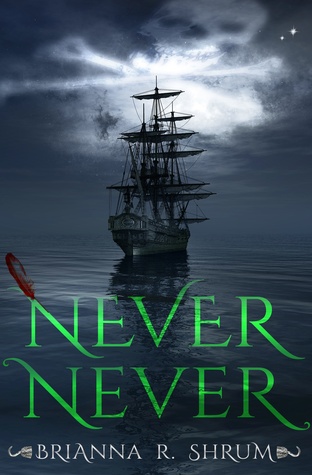 Title: Never Never
Author:
Brianna Shrum
Publication Date: September 22nd, 2015
Publisher: Spencer Hill Press
James Hook is a child who only wants to grow up.





When he meets Peter Pan, a boy who loves to pretend and is intent on never becoming a man, James decides he could try being a child—at least briefly. James joins Peter Pan on a holiday to Neverland, a place of adventure created by children's dreams, but Neverland is not for the faint of heart. Soon James finds himself longing for home, determined that he is destined to be a man. But Peter refuses to take him back, leaving James trapped in a world just beyond the one he loves. A world where children are to never grow up.





But grow up he does.





And thus begins the epic adventure of a Lost Boy and a Pirate.





This story isn't about Peter Pan; it's about the boy whose life he stole. It's about a man in a world that hates men. It's about the feared Captain James Hook and his passionate quest to kill the Pan, an impossible feat in a magical land where everyone loves Peter Pan.





Except one.
Brianna Shrum lives in Colorado with her high-school-sweetheart turned husband and her two little boys. She's been writing since she could scrawl letters, and has worked with teens since she graduated out of teenager-hood, either in the writing classes she taught, or working with the youth group. Brianna digs all things YA, all things geeky, superhero-y, gamery, magical, and strange.
Her debut YA, Never Never, releases in September of this year. Her second YA, How to Make Out, releases in Fall 2016. She'd totally love to connect with you, so come say hi on her website or Twitter!
Follow her on Twitter @briannashrum