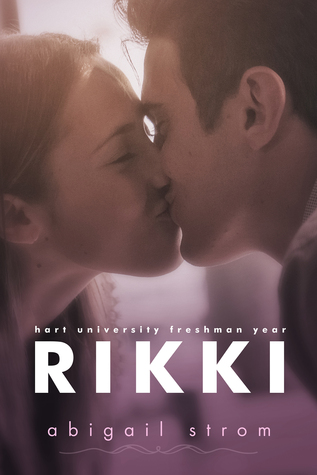 Series:
standalone
Genre:
NA contemporary
Publication Date:
September 22nd, 2015
Publisher:
Abigail Strom
Goodreads
Goodreads Description:
Ever since junior high and an ill-fated game of seven minutes in heaven, Rikki Eisendrath and Sam Payne have hated each others' guts. But when they end up at the same college—and the same dorm—they figure it's time to declare a truce.





They even become friends… sort of. But when Sam asks Rikki to model for his sculpting project, they start spending more time together—and her feelings for him get more complicated.





She tries to focus on the guy she's been crushing on instead. But Sam's the one she can't stop thinking about, even though their arguments are starting to heat up as much as the chemistry between them.





With antagonism and attraction this intense, there's bound to be an explosion. But when the dust settles, will Sam and Rikki be enemies, friends… or something more?
I've been really into New Adult lately, and this caught my eye as I was browsing Netgalley. It looked like a story I would like!
Source: I received a copy of this book in exchange for an honest review.
Rikki
wasn't a horrible book. I loved the idea of the story. Sam and Rikki had decent chemistry. Rikki's roommate was pretty cool. There was a variety of characters. The sculpting scenes were fun.
However, I had some big issues the book that made me give up on it at 88 percent (even though I didn't have much left to read).
First, the book seemed to try almost
too
hard to be positive (about sex, body image, choices, etc.), which rubbed me the wrong way. Positivity is a great thing! Forced positivity isn't as great. It didn't feel genuine in this book. Such a big point was made to ensure that positivity actually did exist in the characters' attitudes. I would've preferred it if it felt like a natural thing. I started feeling put off by this early on, and it never faded.
The cast of characters were flat. I would've loved to get to know them, like Rikki's moms or her new friends, a lot more than I had. Even Rikki and Sam weren't fleshed out enough for me to love them. The characters had the potential to be amazing, but they weren't.
There was a twist around 88 percent that made me realize how formulaic the book was. A book can follow a formula and still be amazing, but when it starts feeling obviously formulaic, I have a tough time wanting to continue reading it. That's what happened with
Rikki
. A twist I see over and over and
over
again popped up. I may have not minded it if it was pulled off better or if I liked the book more, but that wasn't the case. I lost all interest in continuing the book, so I decided to move on.
Overall, I wasn't happy with
Rikki
. Despite the good parts I mentioned at the beginning of this review, the issues I had far outweighed them.