"Waiting On" Wednesday is a weekly meme hosted by
Breaking the Spine
that spotlights upcoming releases that we're eagerly anticipating.
February 23rd, 2016 by Scholastic Press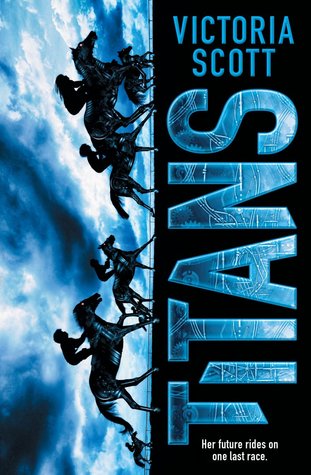 From Victoria Scott, author of FIRE & FLOOD, comes a thrilling story of impossible odds.




Ever since the Titans first appeared in her Detroit neighborhood, Astrid Sullivan's world has revolved around the mechanical horses. She and her best friend have spent countless hours watching them and their jockeys practice on the track. It's not just the thrill of the race. It's the engineering of the horses and the way they're programmed to seem so lifelike. The Titans are everything that fascinates Astrid, and nothing she'll ever touch.




She hates them a little, too. Her dad lost everything betting on the Titans. And the races are a reminder of the gap between the rich jockeys who can afford the expensive machines to ride, and the working class friends and neighbors of Astrid's who wager on them.




But when Astrid's offered a chance to enter an early model Titan in this year's derby, well, she decides to risk it all. Because for a girl from the wrong side of the tracks, it's more than a chance at fame or money. Betting on herself is the only way she can see to hang on to everyone in the world she cares about.
Reasons to Be Excited for This Book:
LOOK AT THAT COVER. I love how the title and picture are sideways and the author name and tagline aren't. I love the contrast with the black and blue--THAT SUPER PRETTY BLUE. (I may or may not be obsessed with this cover.)

It's Victoria Scott and she's written some flippin' awesome books. I LOVED The Collector. The Fire & Flood series is so creative and exciting. I love the characters, partially because of how well developed they are.

MECHANICAL HORSES.

There are races, which are bound to be exciting.

There's obviously a divide in classes. I find books with this kind of focus to be really interesting. I like seeing how the members of the different classes interact with and view one another.
That's my WoW this week! What's yours?