I'm really excited to share an interview with Ami Allen-Vath with you all for the 2015 Debut Authors Bash! (Her debut sounds GREAT. It's original publication date was set for this year, but it's now releasing in March.) Thank you to Ami for the interview and giveaway (which you really want to enter!) and to Nichole @
YA Reads
for organizing the bash. ☺
There are many more authors and bloggers in the bash! Check out the schedule
here
.
About Ami Allen-Vath
Ami Allen-Vath was born and mostly raised in Minnesota.
Since college, (SCSU, Hunter College, City College) Ami has performed with Just The Funny improv troupe in Miami, FL. She's also performed in two productions of The Vagina Monologues in Atlanta, GA, the state she met her husband.
She now lives with her family, including their dog Yoda, in New Jersey.
Ami loves great and terrible TV, ice cream, books, and vacations. She loathes cilantro, live birds, and when guys do cartoon impressions.
Her debut novel, LIARS AND LOSERS LIKE US is forthcoming from Sky Pony Press in March of 2016.
Interview With Ami
Hi Ami! I'm so excited to interview you. :)
Hey Kaitlin! I'm excited to be here.
First of all, tell me a random fact about yourself!
Hmmmm...this is a tough one. I feel like I'm always using random facts in different bios so I want to give you something new. Here's one: I would love to be on Saturday Night Live. As a cast member or host. I have no idea how it would ever happen, especially since I don't act anymore but I'm still going to dream.

What has been the most surprising part of your debut journey?
I find it surprising that even though getting published is tough and there's so much competition, there are so many supportive people along the way. I've gotten such great support already from other writers, agents, bloggers and readers. It's not too tough to find your people in the book community.
I love meeting characters and getting to know them! Can you give me a brief introduction to the cast of characters in Liars and Losers Like Us?
Sure! Bree, the main character, is the daydreaming, over-thinking prom queen nominee by default. Her best friend Kallie is currently blinded by love and lust as she works toward winning the crown. Maisey is the class outcast with problems that run deeper than being bullied at school. And there's Jane. Whenever things are awkward or uncomfortable, she always knows how to make it worse with a bitchy comment. But just like Maisey and some of the other LALLU characters you'll meet, Jane is guarding a few secrets of her own, too.
It looks that Bree goes through a lot on her journey and she probably grows a lot. Did she teach you anything while you were writing her story? Did you relate to her?
I related to Bree because I had a lot of anxiety as a YA (still do, yay!). Like Bree, I was constantly second guessing myself and overthinking things. But even though Bree has a lot of anxiety, she still finds ways to be confident and assertive. I found that inspiring and I hope other readers will as well.
In writing Bree, I learned a lot. It made me extra, extra grateful for the friends I had in high school. It's such a tough age and there can be so much drama going on internally and externally. Having friends and being able to laugh, makes things so much easier. I'm so thankful for my high school BFFs.
Did any of your characters end up surprising you?
Jane surprised me the most. She started out as the basic mean girl but as I wrote and revised her, I really, really came to understand who she was and why.
Can you think of any characters from movies/tv shows that have similar personalities to the characters in your book?
As far as personalities go, I can't really think of any individuals. But I was definitely inspired by the drama and friendships in the 90210 series. LALLU has a lot of friend, home and relationship drama, so for me, it really does have that teen TV series vibe.
Let's close this interview with another random question! What is your favorite ice cream flavor?
Ice cream is my absolute favorite food and I don't think I can choose. I am very, very partial to flavors with banana in them, though. I also love mint flavors. And chocolate flavors. And even vanilla. Gelato! Frozen yogurt! All of it, really. Also, another important ice cream note: I'm not a demanding person but when it comes to my birthday, I must have an ice cream cake.
Thank you for answering my questions, Ami! :)
You're welcome, Kaitlin. Thanks so much for taking the time to interview me!
About Liars and Losers Like Us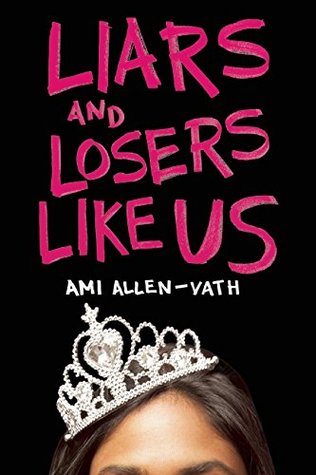 Genre: YA contemporary
Release Date: March 1st, 2016
Publisher: Sky Pony Press
Keep calm and make it to prom night—without a legit panic attack.

For seventeen-year-old Bree Hughes, it's easier said than done when gossip, grief, and the opportunity to fail at love are practically high-fiving her in the hallways of Belmont High.

When Bree's crush, Sean Mills, gives her his phone number, she can't even leave a voicemail without sounding like a freak. Then she's asked to be on Prom Court because Maisey Morgan, the school outcast nominated as a joke, declined. She apologizes to Maisey, but it's too late. After years of torment and an ugly secret shared with their class's cruel Pageant Queen, Maisey commits suicide. Bree is left with a lot of regret…and a revealing letter with a final request.

With Sean by her side, Bree navigates through her guilt, her parents' divorce, and all the Prom Court drama. But when a cheating-love-triangle secret hits the fan after a night of sex, drinks, and video games, she's left with new information about Sean and the class Pageant Queen. Bree must now speak up or stay silent. If she lets fear be her guide, she'll lose her first love, and head to prom to avenge the death of the school outcast—as a party of one.
Ami is giving away a pre-order of
Liars and Losers Like Us
and signed swag to one lucky winner! This giveaway runs from today (December 7) to December 30th. Open INT. Giveaway policy is listed
here
and in the Rafflecopter. Good luck. ☺